Director's Message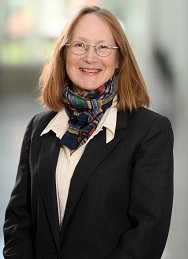 It is my great privilege to be the Director of the IDPhD program. I have always worked across disciplinary boundaries, both in my practice as a clinical psychologist and in my other current role as a member of the School of Health and Human Performance faculty, Health Promotion Division.
The Nature editorial of 16 September 2015 stated "To solve the grand challenges facing society — energy, water, climate, food, health — scientists and social scientists must work together." I would add to this not just scientists and social scientists but all the faculties and departments at Dalhousie.
I firmly believe that our IDPhD students are well situated to solve the grand challenges and I see my role as supporting our students to do so while building their own productive careers in whichever direction they choose to go.
Our interdisciplinary program gives students who think "outside the box" an opportunity to follow their passion. Our students select committee members from across the wide range of expertise at Dalhousie, create their unique plan for learning and join with like-minded individuals to develop unique integrations of existing knowledge.
If you believe our program may be for you, I invite you to contact me at lynne.robinson@dal.ca or contact the administrative assistant at idphd@dal.ca.
Sincerely,
Lynne Robinson, PhD
Director, Interdisciplinary PhD Program