Partners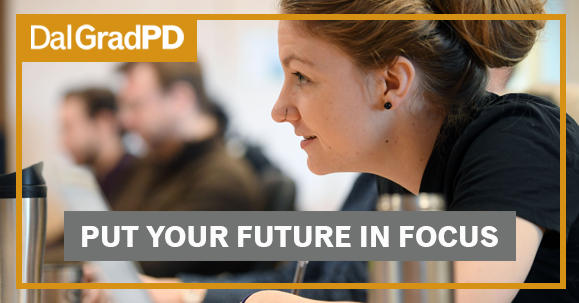 Our partners
Dal GradPD draws together the expertise and efforts of partners across the university, who create professional development exclusively for graduate students. From guidance on how to commercialize your research, to health and wellness support, to education aimed at cultivating your research, writing and teaching skills, our partners put a focus on your PD needs. 
But please note, if you're pursuing the Dal GradPD certificate program, you will get credit for any PD opportunities you take, no matter what the provider. You'll learn more about this when you register for the program.
Meet our partners
Bissett Student Success Centre
Providing academic advising and career services, the Bissett Student Success Centre partners with different campus groups to hold career and leadership events throughout the year, including workshops, career fairs and the annual Community Day.
Centre for the Integration of Research, Teaching and Learning (CIRTL)
As CIRTL members, Dalhousie faculty, staff and students can take advantage of free online professional development opportunities, and get access to resources, communities, and support.  It is also a space for graduate students, postdoctoral fellows, and faculty to engage with peers across the network through centrally coordinated activities across the various institutions. 
Centre for Learning and Teaching
CLT's website has information on TA days, the certificate in University Teaching and Learning, the Dalhousie Conference on University Teaching and Learning, workshops and discussion groups.
Dal Innovates
Dal Innovates provides opportunities for students to explore and experience innovation and entrepreneurship and develop knowledge, skills and attitudes necessary to translate new ideas into innovations.
SURGE An "innovation sandbox" hosted within Dalhousie's Faculty of Science, SURGE offers a variety of programming for undergraduate and graduate students. Although its focus is on science innovation, programming is open to students from all faculties. 
Emera ideaHUB: The Emera ideaHUB is an advanced business incubator that empowers startups and ventures led by students, faculty and alumni to create and build the next generation of world-class technology companies making physical products in areas such as ocean tech, clean energy, food science and more.
Dalhousie Libraries
Among the online workshops offered by Dalhousie Libraries are a series of Research Bootcamps tailored to graduate students to help develop skills in conducting online research, writing literature reviews, source citation and more.
Dalhousie Studying for Success
The Studying for Success Program supports students on and off campus in all areas of study skills and tutoring. Virtual appointments can be made through Brightspace Collaborate, Microsoft Teams or over the phone.
Human Rights & Equity Services (HRES) 
HRES provides trauma-informed, survivor-centered confidential advisory service to members of the Dalhousie community seeking advice & support related to human rights, discrimination, harassment, sexualized violence, equity & inclusion, accommodation & accessibility, and conflict. 
Marine Environmental Observation Prediction & Response Network (MEOPAR)
Located in the Steele Ocean Sciences Building, MEOPAR funds research, trains students, mobilizes knowledge and forms partnerships in the area of marine risk and resilience. It regularly holds webinars and workshops open to graduate students from all fields.
Mitacs
Mitacs provides free professional skills development workshops covering topics such as time management, networking, entrepreneurship and presentation skills. Registration is done by creating an account through Mitacs' EDGE portal.
Professional & Research Education Program (PREP)
PREP provides research and professional skills training for graduate students, postdoctoral fellows and faculty members who are new to Dal or new to research, with the intention of helping these groups build their careers and conduct quality research in increasingly competitive environments. The 2020-2021 PREP Curriculum is now available - events are open to all Dalhousie graduate students.
Pulse
Dalhousie's Health Innovation Sandbox, Pulse promotes innovation and entrepreneurship in health, technology and life sciences. Its programming will be of particular interest to students from the Faculties of Dentistry, Medicine and Health.
Writing Centre
The Writing Centre is a free service for students of all programs and levels who want to improve their writing skills. Seminars and events are offered throughout the year, and individual appointments are available for students looking for one-on-one help.
The centre also offers the Academic Integrity Module, a scenario-based online learning module designed to support your understanding of the expectations of academic integrity at Dalhousie. You may be automatically registered for the module through one of your courses, but interested students can also self-register.