Grad Student Professional Development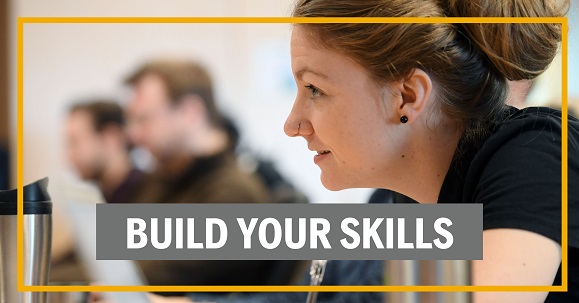 The Faculty of Graduate Studies and its partners provide impactful professional development opportunities built to help you make the most of your university experience and future career. We will help you navigate graduate student life, cultivate career readiness, become an effective communicator and find your inner leader.
Upcoming instructor-led workshops and webinars
Additional group support professional development
Monday grad student writing group
Do you struggle to start or finish writing projects as part of your graduate work? Join the Writing Centre's Monday grad sudent writing group. Along with others in the group, you'll meet online Monday morning to discuss issues that hinder your writing and set daily and weekly goals. Later in the afternoon, you'll meet again to provide a one-minite progress report. Through this process, you'll gain the confidence to work through your issues and complete your writing project.
Email kala.hirtle@dal.ca to register.
Wednesday ESL workshops
If English is not your first language, learn new skills in free weekly workshops from the College of Continuing Education open to all graduate and undergraduate students. Sessions take place every Wednesday during the fall semester from 11:30 a.m. to 12:30 p.m. Halifax time, with topics covering informal speaking, email etiquette, online interview tips and more.
See the complete listing of courses and register at the CCE website.
Self-directed online learning
Mitacs
Our partnership with Mitacs grants you access to their online courses that allow you to learn new skills at your own pace, where and when it's convenient for you. Graduate students and postdocs can sign up for a Mitacs EDGE account if you don't already have one, and register for any of the courses below.

Q-Life resiliency training
Available to all Dalhousie students, the Q-Life resiliency training program is designed to help you be better prepared for dealing with stress and everyday challenges. The program requires a commitment of one hour per week for nine weeks. Complete details and testimonial videos from past participants are available at dal.ca/resilienceproject. 
Professional development providers
Faculty of Graduate Studies
Workshops presented by the Faculty of Graduate Studies involve facilitators from both inside and outside the Dalhousie community. Past sessions have covered networking and personal branding, communication across cultures and assessing personal strengths. FGS also provides workshops specifically for first-year students (Ongoing Orientation) and to enhance knowledge translation and communication skills (OpenThink).
Ongoing Orientation
New students attend an orientation session at the beginning of their first term, but Ongoing Orientation workshops reinforce key concepts throughout the academic year. Sessions cover topics such as tips for working with data, marketing your graduate degree to employers and using your student health plan.


OpenThink
Select workshops offered as part of the OpenThink Initiative for PhD students are open to grad students of all levels. Led by communications experts from inside and outside of Dalhousie, these sessions aim to improve researchers' knowledge translation abilities. 
Bissett Student Success Centre
Providing academic advising and career services, the Bissett Student Success Centre partners with different campus groups to hold career and leadership events throughout the year, including workshops, career fairs and the annual Community Day.
Centre for Learning and Teaching
CLT's website has information on TA days, the certificate in University Teaching and Learning, the Dalhousie Conference on University Teaching and Learning, workshops and discussion groups.
College of Continuing Education
The College of Continuing Education offers free online workshops nearly every Wednesday during the fall term that cover topics designed to help students succeed in their degree programs and careers. Visit the CCE website for a list of topics and times.
Dal Innovates
Dal Innovates provides opportunities for students to explore and experience innovation and entrepreneurship and develop knowledge, skills and attitudes necessary to translate new ideas into innovations.
Lab2Market
A 16-week program for teams of graduate students, postdoctoral fellows and faculty members interested in commercializing their research, Lab2Market empowers researchers to think like entrepreneurs. Applications for the spring 2021 Lab2Market Halifax cohort are being accepted until November 20, 2020. 
SURGE
An "innovation sandbox" hosted within Dalhousie's Faculty of Science, SURGE offers a variety of programming for undergraduate and graduate students. Although its focus is on science innovation, programming is open to students from all faculties. 
Dalhousie Libraries
Among the online workshops offered by Dalhousie Libraries are a series of Research Bootcamps tailored to graduate students to help develop skills in conducting online research, writing literature reviews, source citation and more.
Dalhousie Studying for Success
The Studying for Success Program supports students on and off campus in all areas of study skills and tutoring. Virtual appointments can be made through Brightspace Collaborate, Microsoft Teams or over the phone.
Mitacs
Mitacs provides free professional skills development workshops covering topics such as time management, networking, entrepreneurship and presentation skills. Registration is done by creating an account through Mitacs' EDGE portal.
Professional & Research Education Program (PREP)
PREP provides research and professional skills training for graduate students, postdoctoral fellows and faculty members who are new to Dal or new to research, with the intention of helping these groups build their careers and conduct quality research in increasingly competitive environments. The 2020-2021 PREP Curriculum is now available - events are open to all Dalhousie graduate students.
Writing Centre
The Writing Centre is a free service for students of all programs and levels who want to improve their writing skills. Seminars and events are offered throughout the year, and individual appointments are available for students looking for one-on-one help.
The centre also offers the Academic Integrity Module, a scenario-based online learning module designed to support your understanding of the expectations of academic integrity at Dalhousie. You may be automatically registered for the module through one of your courses, but interested students can also self-register.