Grad Student Professional Development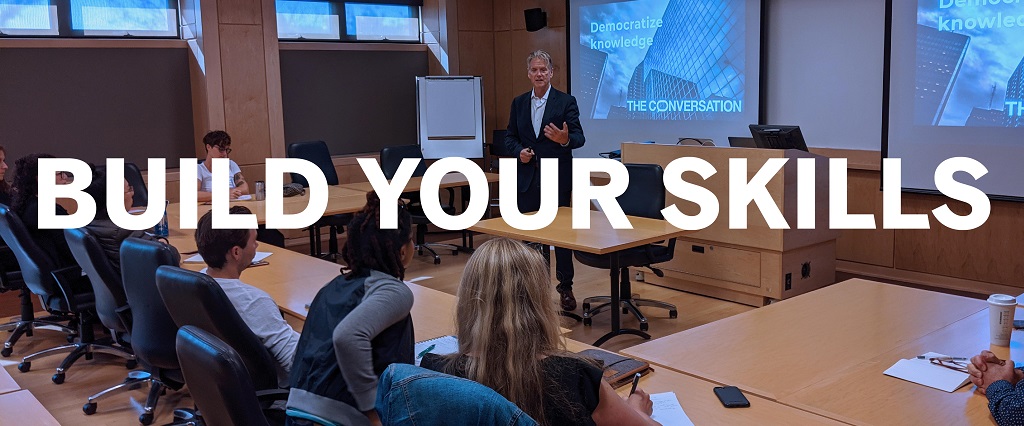 The Faculty of Graduate Studies and its partners across the university provide a wide range of impactful professional development opportunities. Built to help you make the most of your university experience and prepare you for your future career, workshops will help you navigate graduate student life, cultivate career readiness, become an effective communicator and find your inner leader.
Upcoming workshops
In-person professional development opportunities have been cancelled to uphold physical distancing recommendations proscribed by government health authorities as a consequence of the COVID-19 pandemic.
The Faculty of Graduate Studies and our partners are developing new online programs. Please check back for updates.
Professional development providers
Faculty of Graduate Studies
Workshops presented by the Faculty of Graduate Studies and the Centre for Learning & Teaching involve facilitators from both inside and outside the Dalhousie community. Past sessions have covered networking and personal branding, communication across cultures and assessing personal strengths. FGS also provides workshops specifically for first-year students (Ongoing Orientation) and to enhance knowledge translation and communication skills (OpenThink).
Ongoing Orientation
New students attend an orientation session at the beginning of their first term, but Ongoing Orientation workshops reinforce key concepts throughout the academic year. Sessions cover topics such as tips for working with data, marketing your graduate degree to employers and using your student health plan.


OpenThink
Select workshops offered as part of the OpenThink Initiative for PhD students are open to grad students of all levels. Led by communications experts from inside and outside of Dalhousie, these sessions aim to improve researchers' knowledge translation abilities. 
Dal Innovates
Dal Innovates provides opportunities for students to explore and experience innovation and entrepreneurship and develop knowledge, skills and attitudes necessary to translate new ideas into innovations.
Mitacs
Mitacs provides free professional skills development workshops covering topics such as time management, networking, entrepreneurship and presentation skills. Registration is done by creating an account through Mitacs' EDGE portal.
Professional & Research Education Program (PREP)
PREP provides research and professional skills training for graduate students, postdoctoral fellows and faculty members who are new to Dal or new to research, with the intention of helping these groups build their careers and conduct quality research in increasingly competitive environments.
Centre for Learning and Teaching
CLT's website has information on TA days, the certificate in University Teaching and Learning, the Dalhousie Conference on University Teaching and Learning, workshops and discussion groups.
English as a second language
Free ESL workshops for graduate and undergraduate students are offered each week by Dalhousie ESL. Please visit the College of Continuing Education's website for a list of topics, dates and times. Regular workshop attendance can also appear on your CCR (Co-Curricular Record). 

Writing Centre
The Writing Centre is a free service for students of all programs and levels who want to improve their writing skills. Seminars and events are offered throughout the year, and individual appointments are available for students looking for one-on-one help.
The centre also offers the Academic Integrity Module, a scenario-based online learning module designed to support your understanding of the expectations of academic integrity at Dalhousie. You may be automatically registered for the module through one of your courses, but interested students can also self-register.
Bissett Student Success Centre
Providing academic advising and career services, the Bissett Student Success Centre partners with different campus groups to hold career and leadership events throughout the year, including workshops, career fairs and the annual Community Day.