About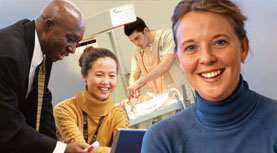 Approximately 3500 graduate students are studying over 95 Master's, 45 PhD and 10 graduate certificate and diploma programs. A thousand International students and more students from Nova Scotia than any other university study in a variety of fields such as Engineering, Ocean Sciences, Computer Science, Social Science, Health Professions, Law, and much more.
Dalhousie is the only Atlantic Canadian member of the U15, a group of leading research-intensive universities; we receive over $135 million in research funding every year.
Situated on three beautiful campuses in the city of Halifax, graduate students at Dalhousie have access not only to world class education and research opportunities, but also to the vibrant cultural and social life that Halifax offers. Students who choose to study at the Faculty of Agriculture attend school in picturesque Truro, NS where they have access to state-of-the-art facilities and are within an hour of many of the province's main attractions, including vibrant Halifax.
Graduate degrees at Dalhousie open doors to exciting opportunities, and many of our alumni have gone on to lead distinguished careers in academia, business, law, engineering, sciences, the arts, and more.

In this section you can: