News
»
Go to news main
Dalhousie Capstone Team Improve Operations at Nova Scotia's Largest Children's Hospital
Posted by
Engineering Communications
on March 28, 2023 in
News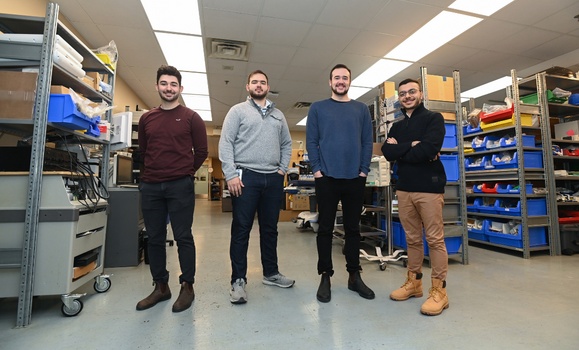 A team of Dalhousie industrial engineering students are getting their chance to improve operations at Nova Scotia's largest children's hospital.

"Healthcare has been a hot topic lately, so being able to apply our knowledge to a healthcare project is an amazing opportunity," says engineering student Jared Hudder. "If we can bring positive light and change to the IWK, that's a really rewarding experience."
As part of their senior year engineering Capstone Project, Hudder and his teammates, Austin Risser, Amir Amiri and Alex Hemenway are working with the IWK Health Centre's Clinical Engineering Department to reconfigure spacing issues within the hospital. Hudder says space is at a premium in the hospital and the Clinical Engineering team requires sufficient space to service, store, and maintain all medical devices in the IWK to perform patient care.

"They are expecting to grow their staff, but with the current space available to them, they are already occupying as much as they can," he says. "They needed to either reconfigure their layout or explore other means to free up space."

He adds that more hospital staff could result in better healthcare services to Nova Scotians. So the team began by assessing three different areas within the building, taking note of where resources such as equipment and tools were stored.

"Once we began, we realized that the IWK was not only dealing with space issues, but they were also dealing with device and part management issues. Their inventory software was unable to be used to its full capabilities without having a physical inventory management system that could be integrated into the software." says Hudder. "We ended up focusing on three key areas, an inventory management solution, a new facility layout and a 5S solution all to free up space and improve operations."
To determine recommendations, the team applied industrial engineering tools such as layout construction algorithms, inventory methodologies and a 5S process. 5S is a five-step process (sort, straighten, shine, standardize and sustain) designed to help build and maintain a quality work environment, and create a more efficient and effective workplace. The team then focused on designing a new layout and inventory system that would allow hospital staff to easily track and locate equipment and tools within the building.  

 "Luckily enough the software they use to manage their inventory is, although out of date, very capable and has a lot of potential. So we really focused on making sure our solution wasn't going to be a drastic change to their current operations," says Hudder.

He adds that he and his teammates later developed resource materials for staff at the IWK which outlines how to properly use the new inventory system, as well as a guide for the clinical engineering team to follow as standards when using a 5S system.

Dalhousie Engineering Capstone Conference

The team's Capstone project is one of over 100 innovative projects that will be on display at this year's Dalhousie Engineering Capstone Conference.
The Faculty of Engineering's Capstone Program gives students from all engineering disciplines the opportunity to collaborate with industry partners on open-ended problems they don't have the resources to tackle on their own. For Hudder and his teammates, the yearlong program not only allowed them to "spread their wings," and apply their academic learning to industry challenges, but it also advanced their project management and communications skills.
"I would say that the biggest takeaway for me skill wise, is how important managing a client and building that relationship with your client can be," says Hudder. "Without effective communication and project management skills, you're going to be spinning your wheels and not really getting anywhere."

Members of the engineering community are invited to attend this year's Capstone Conference. The poster exhibit will be held on Dalhousie's Sexton Campus on Tuesday, April 11th from 1pm-4pm.