News
»
Go to news main
Dal Researchers Investigate Emergency Response Times up North
Posted by
Engineering Communications
on January 31, 2022 in
News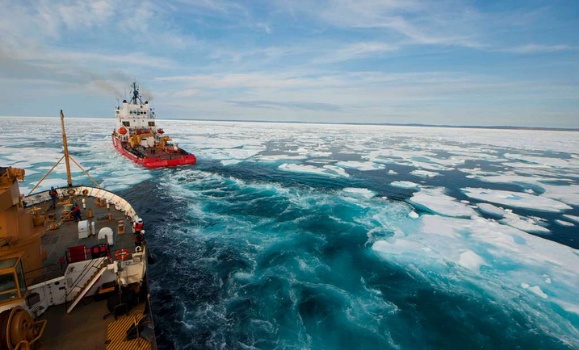 As sea ice in the Arctic continues to melt and decrease, voyages along polar waters have become more common within the shipping industry. But sailing into Arctic waters poses a number of significant risks including extreme weather, ice conditions, remoteness and limited access to Search and Rescue resources.

In the event of an emergency, guidelines provided by the International Maritime Organization's International Code of Ships Operating in Polar Waters stipulate that the maximum expected time of rescue up north is at least five days. But with limited data currently available, the question is whether these emergency response times are realistic?
Two researchers from Dalhousie's Department of Industrial Engineering are aiming to provide answers. In partnership with a number of national collaborators, Dr. Ronald Pelot and Dr. Floris Goerlandt have received close to $1 million in federal funding to analyse and assess the risks and factors associated with emergency response times up north. They'll use a combination of mathematical modelling and consultative approaches to dive deeper into these variables.

Pelot, who is also the Associate Scientific Director of MEOPAR in Halifax says that between growing northern communities, increased tourism, industry and government activity, traffic up north has substantially increased over the years.

According to national Coast Guard statistics, an average of twenty five emergency incidents are reported each year in the Canadian Arctic. About half of those incidents are distress or potential distress calls.

"International codes state that if you're shipping up north, you need to have a least five days' worth of capacity in case you have to wait for Search and Rescue crews," says Pelot. "That means you'd better have food, water, fuel, proper clothing and batteries for communication."

Of course, Search and Rescue response times vary significantly based on a number of factors including how long it may take the Coast Guard and DND or nearby communities to respond to a distress call.

"Anyone can say that if there's bad weather it's going to slow down emergency response times," says Pelot, "but that likelihood is different at different times of year, between different locations, and how often these big storms come up." 

"Up north, because of its harshness, there's also an increased danger to the response crews," he adds. "And there's a big concern for the people who live up there. What if a cruise ship or an oil tanker has an accident nearby? This would affect them in many ways as well. In a way, the whole context is very different than for the rest of the country. This is a very challenging problem that needs a lot of work by a lot of people."

Only a few months into their three year research project, Pelot and Goerlandt say they will make significant efforts to ensure that their models will be used to inform and guide a variety of players including government, shipping companies, the National Research Council and community members up north.
"There's a lot of interest in this topic because it's relevant to society," says Goerlandt, who is the Canada Research Chair in Risk Management and Resource Optimization for Marine Industries. "As a researcher it's sometimes hard to translate your work into 'real impact' and that's something we always try and achieve. But with this project, we have a lot of support that will help us achieve quality results and communicate the results to the right audiences. It is exciting to work on a topic that could really make a difference to improve marine safety in Canada and beyond."