News
»
Go to news main
2021 Women in STEM panel: work life balance in the virtual era
Posted by
Merilyn Layne
on December 1, 2021 in
News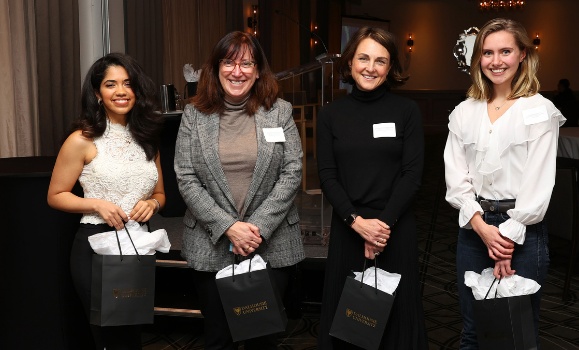 On November 17, Dalhousie's Faculties of Computer Science, Engineering and Science hosted the 4th annual Women in STEM Networking Event. This cross-institutional event was one of the first in-person events for the faculties since the beginning of global pandemic in 2020.
The panel brought together three women from a wide variety of STEM related fields. Together, they shared their perspectives on the challenges and most importantly the opportunities of being a woman in STEM.
On the panel were:
Courtney Pick (BCS'21) is a Junior Software Developer with Milk Moovement, a company that provides actionable intelligence across the dairy supply chain through a cloud-based software and the recipient of TechNL's best start-up. Courtney is passionate about solving complex problems through the means of data science, machine learning, and robust algorithms.


Anne-Marie Colbert (BEng'89) is the Director of Personnel (Human Resources) for Michelin North America (Canada). She has been with Michelin for over 32 years and has had many roles in her career including Engineering, Maintenance, Production Management, Quality, and Personnel.


Dr. Joanna Mills Flemming (PhD'00) is a statistician and professor in the Department of Mathematics and Statistics at Dalhousie University. Her research focuses on the development of statistical methodologies for data exhibiting spatial and-or temporal dependencies with an interest in marine ecology, fisheries science and more recently health sciences.
With the past two years impacted by the pandemic, this year's event had an extra focus on work-life balance and the different ways of working - including hybrid work , that is now becoming the new normal.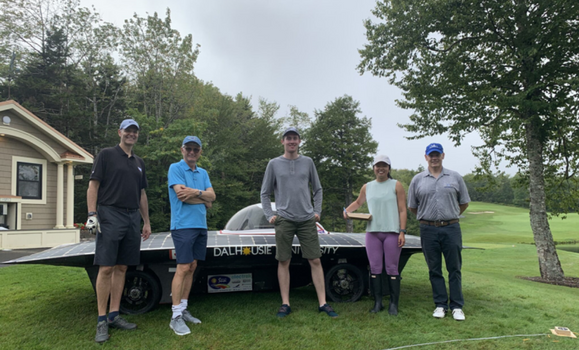 Over 70 people filled the Windsor Room of the Prince George Hotel for an evening of networking with their peers. In the room was a great mix of Dalhousie students, alumni, and community members studying, working, or interested in the areas of STEM. All attendees were there with the common goal of creating a community that is safe for women's voices and the advancement of women in STEM.
The panel focused on topics such as the hybrid working model, work-life balance and how to advocate for women in STEM.
"It's more than having a seat at the table, it's having a voice at the table. It's about being heard," said Anne-Marie Colbert, Director of Personnel at Michelin North America (Canada).
Courtney Pick, a Junior Software Developer with Milk Moovement spoke on building up other women. "Just being an ally goes a long way. Being there for one another, seeing someone get promoted and being happy for them, these microtransactions can make for an inclusive workplace," said Pick.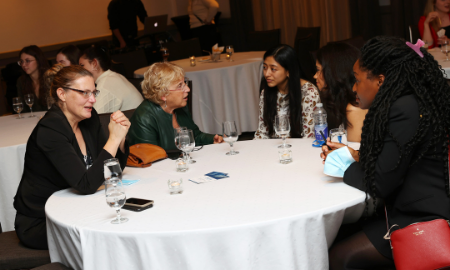 Following the moderated questions Yara Ahmed, the student moderator, a 3rd year Bachelor of Applied Computer Science student opened the floor up to questions from the audience. One question from the audience asked the panel members for advice on finding a mentor. Joanna Mills Flemming, a statistician and faculty in the Department of Mathematics & Statistics answered, "Mentors need to be good listeners. As the mentee you need to remember that their job isn't to solve your problems, it's to help you solve your problems. You want someone you can work with, that you can bounce ideas off and those are qualities that would make the relationship with a mentor work."
The event's goal was to highlight the role women play in STEM fields and show that there is a community of support for students, alumni and friends of Dalhousie. Through the panel conversations and networking session hosted after the panel there was a strong sense of just that, among everyone in the room.