News
»
Go to news main
Grad Profile: Designing Systems with Diversity and Empathy
Posted by
Merilyn Layne
on June 24, 2021 in
News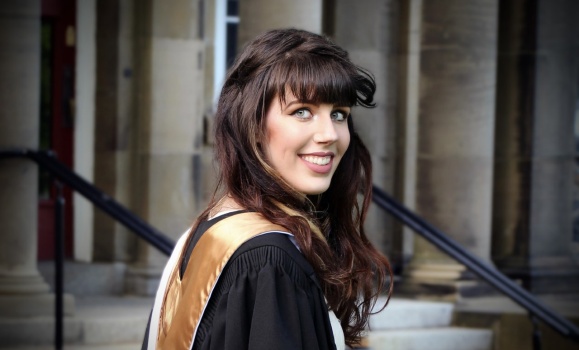 Annika Benson (BEng'21) is an electrical engineering graduate and is entering the very role that's the reason she chose to pursue a degree in electrical engineering.
When trying to choose a discipline, Annika met with professors from across the engineering fields to explore career possibilities. In this process, she met with Dr. Jeremy Brown and learned about his ultrasound lab and its applications in treating tumours she was instantly intrigued "I thought it was pretty much the coolest thing in the world, and from then on, resolved to pursue the electrical side of biomedical engineering. 3 years later, I now work for him, and get to spend my days designing ultrasound probes for brain imaging in neurosurgery for a living," she shared. Annika's excitement for her role as a research associate at Nova Scotia Health (NSH) has yet to wear off and she hopes it never does.
Excitement and passion are key themes throughout Annika's time at Dalhousie. From entering— and winning— engineering competitions, to watching the sunrise on campus with classmates after pulling an all-nighter together for a class project, the lessons learned, and the friends made had a lasting impact.
These friendships and connections played a large role in Benson's studies "I remember one of my classmates telling me, "Engineering is a team sport" and those words have always stuck with me. Throughout this degree, my peers have been a great source of inspiration, commiseration and education, and I'm really grateful for that. To all of the engineering students who are doing amazing advocacy work, to anyone who ever said "me too" when I said I felt lost, and to the friends who helped me debug circuits at the eleventh hour – thank you," shared Annika.
Being a vocal supporter
Advocating for and supporting diversity in the engineering field is a topic close to Annika's heart, she has woven these values through all that she does. Annika states, "just because you don't see other people like you, it doesn't mean you don't belong. It just means they are missing people like you, which makes it even more important for you to be there. "Uniqueness" is a double-edged sword, because it can make you question your place, but whatever makes you different from your peers is probably your biggest asset."
For Annika, it is clear that Engineers can change the world through system design, devices and infrastructure at the heart of all societies. Allowing individual perspectives to be at the table brings unique solutions, and ensures society is being designed to meet the needs of more people.
"There are so many examples, both historical and modern, of engineering designs overlooking the needs of minorities, which have had serious consequences. For example, male crash test dummies are still the norm in automotive testing, so the safety features of cars are designed around male anatomy, meaning female vital organs don't align ideally with seatbelts etc. and we are significantly more likely to die in a car crash. If we had more female automotive engineers that wouldn't be the case. Diversity is so important because it means empathy with a broader range of end-users," Annika shared as an example of room for growth and the importance of diversity in the industry. She adds "This applies to things like gender, disability, neurodivergence, sexuality, ethnicity, religion, race etc. but also in terms of interests."
Annika experienced her own personal example of how diversity can be applied to design in one of the engineering competitions she participated in. Tasked with designing a space that meets the needs of all users, she discovered that some individual's perspectives are often overlooked. Together with her teammate, they conducted stakeholder interviews from which she shared, "my biggest take-away from those discussions (and I say this as someone who herself has a disability) was the realization that people aren't inherently disabled— rather, design can be disabling. Unfortunately disabling design is still very prevalent, so I think that's a really important lesson, not only as a future engineer but also just as a member of society."
Leaving a lasting Impact
A legacy Annika is leaving behind, is her work on a report advocating for diversity, equity and inclusion (EDI) topics to be included in engineering design courses here at Dalhousie. It received positive feedback from faculty and lead to discussions about ways EDI could be incorporated into the curriculum. "I'm incredibly proud of that initiative and hopeful that it will continue to bring about positive change", adds Benson.
Annika ends on the message that "Lastly, I'd just want to say that by simply being yourself, you get to redefine what people think an engineer is, and potentially be the role model for someone else that you wish you had. Someone has to be first, and while it isn't easy, it's an important way forward."