News
»
Go to news main
Student devotes Master's project to changing lives in her hometown
Posted by
Engineering Communications
on May 16, 2019 in
News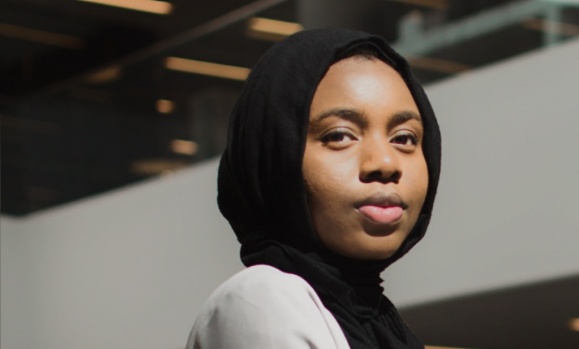 Fatou Secka had always dreamed of becoming a doctor. Growing up in the Gambia, the Dalhousie Civil Engineering Master's student had a strong desire to help others, especially given her country's struggling healthcare system.
In 2012, before arriving in Canada to begin her university degree, Secka had the opportunity to work as a laboratory technician at the Medical Research Council (MRC) Unit in her hometown, Fajara. She says she remembers arriving at the clinic each day to find crowds of patients lined up at the front door. Some of the patients having been there all night hoping to be amongst the first to have their blood tested in the morning.
Many of these people would often learn that they had malaria, a blood-borne disease prominent within the country.
Her experience at the clinic stayed with her as she began her undergraduate degree in Science at Saint Mary's University in 2013. Although her plan had always been to study medicine, financial restraints changed her course of action. In that same year, she began her Diploma of Engineering program at Saint Mary's University.
In 2015, she transferred to Dalhousie University for her Bachelor of Engineering Degree in Environmental Engineering. While working on a co-op term at the Center for Water Resources Studies, she was introduced to a 3-D printed microscope project that conveniently clipped onto her cellphone. The portable device was used to analyse water samples in the field.
"Then, all of a sudden, it occurred to me that this tool could be applicable in the health industry as well," she says.
Secka recalled her time at the Medical Research Council Unit and the hundreds of patients who had to visit the clinic because they didn't have access to proper health facilities in their own villages. By the time some of those patients discovered their ailment, it was too late to save their lives.
"It occurred to me that this lens could be transported to their village through volunteer doctors and nurses, and used as a portable device to diagnose blood samples. The microscope could potentially allow you to see the malaria parasite."
In 2017, after tweaking the lens, she travelled back to the clinic to test out her theory. She worked with medical staff to identify limitations within the lens, and compared the tool to the microscopes doctors were using to analyse blood samples.
"Some lenses have such poor quality that it becomes very difficult to get magnified images. That means you won't be able to see the cells you're trying to examine," she explains. "I realized that the lenses I was using had many limitations and many other factors that I wouldn't want on a device that was being used for blood diagnosis."
She discovered one of the biggest setbacks was the possibility of people infecting their phones with blood samples.
"Let's say you're using your phone to look at a blood sample with a disease that is easily transferable, and it gets on your phone. You could try to disinfect the phone but you might end up putting yourself at risk and your family at risk." Secka returned home inspired and motivated to make a real impact in the lives of others. Her solution was to develop an inexpensive reliable microscope that didn't require the use of a phone.
Now in the preliminary stages of development, Secka is working with professors in the Mechanical Engineering Department to bring her idea to life.
Although the humble 26-year old prefers to remain behind the scenes, her Master's project has garnered a lot of attention in recent months. While she hopes that one day her microscope has a positive impact in low income communities, for now, her work and determination are a true inspiration to other women hoping to pursue a degree in engineering.
"It makes me feel really good to know that I'm able to help others. I have this theory that no matter what path you find yourself on, you can positively impact someone's life," she says. "I hope I can inspire more women to pursue work in fields they may deem challenging. If you're hard working you can achieve anything, regardless of how challenging it is."