News
»
Go to news main
Local Business Partners with Dalhousie University to Revolutionize the Lobster Industry
Posted by
Engineering Communications
on May 13, 2019 in
News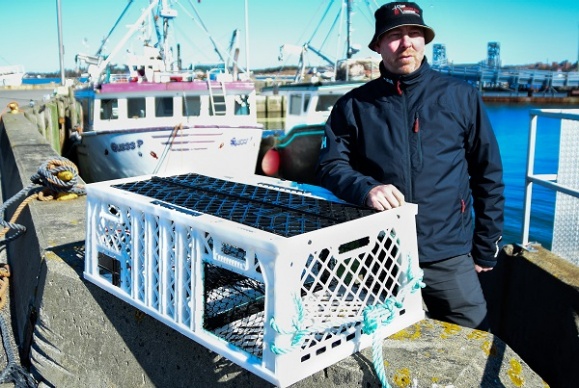 Scott Dauphinee's lobster traps are one of a kind: they're built of high-grade plastic rather than traditional wire mesh, designed with a low center of gravity, and are easily stackable. The traps are not only robust enough to withstand years of wear and tear, but they are also recyclable.

After having spent 3 years designing, patenting, and testing the innovative device with local fisherman, the Yarmouth businessman, who recently launched his new venture under the company name The Lobster Trap Company, partnered with Dalhousie University Senior Engineering Instructor Robert Warner (P.Eng) to take his product to the next level. Warner is a Senior Instructor for Mechanical Engineering and a Principal Investigator in the Product Design and Development Group.

Because the design involved the use of polyethylene plastic, Dauphinee says the intricacy of moulding the trap proved challenging.

"Before being introduced to Robert, I was looking at complex mold designs that would have been very expensive to produce," he explains. "Robert was able to think outside the box. Almost instantly he said that we could produce the trap with a single action which helped bring down both mould and production costs."
Dauphinee says he was very impressed with the Faculty's knowledge and wide range of available resources. In working with Warner, he was immediately able to enhance his design and build a premium product for market.
"It's a completely different arena when you're working with a partner such as Dalhousie: I find they're very refined, professional, resourceful, and accepting to new ideas and change, and they thrive on it."
Dauphinee has already begun taking customer orders for his product. He plans to go to market this summer and produce 10,000 traps for the 2019-2020 lobster fishing season, in particular LFA 33 & 34.

He says his design addresses many common challenges fisherman face with their current lobster traps, including longevity and safety. The traps also meet regulations for use in both Canada and the U.S.   

Going forward, Dauphinee says he will continue working with Warner to improve the design of his product, specifically the trap sizing. He adds that he may also tackle other challenges within the commercial fishing industry.

"At the end of the day it's all about solving a real problem and the customer using the product. For the past year we have been looking at a whole new sweep of products outside to the lobster industry, a new ocean related sector. These next steps are just as exciting as The 21st Century Lobster Trap!"