News
»
Go to news main
Capstone Team Responds to Halifax Regional Fire and Emergency's Call for Improvement
Posted by
Engineering Communications
on April 8, 2019 in
News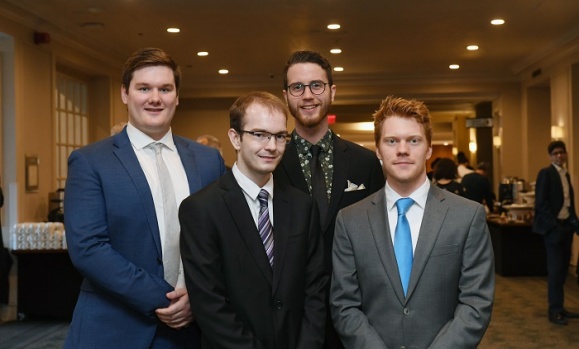 Halifax Regional Fire and Emergency (HRFE) is seeking to adopt a new slate of standards and changes associated with firefighter turnout times. "Turnout time" is the time between when an emergency call is issued to when the wheels of a fire truck start turning.
The organization has set their optimal target times for fire calls at 90 seconds and medical calls at 60 seconds. HRFE is now working with a group of senior year industrial engineering students from Dal's Faculty of Engineering to analyze and identify areas of improvement.
The student team, which consists of Connell Steers, Erik Kimbley, Ian McCallum and Kenneth Stronach, are part of this year's cohort of Capstone projects: a unique opportunity for senior year engineering students to collaborate with local industry partners.
Equipped with three years' worth of HRFE data, the team is examining various fire stations across the HRM and investigating factors that may boost turnout times such as facility design improvements and organizational changes.
Applying design skills to real-life challenges
Nestled on the corner of University Avenue and Robie Street, Halifax Regional Fire & Emergency Station 2 is one of the oldest fire stations in Canada. The two-hundred-year-old station receives the third highest volume of emergency calls in the HRM.
"It was designed in an era when they had the horses pulling the steam engines. So you'll have this fancy new truck and then a two hundred year old antique truck sitting right beside it," explains Steers, "University Avenue was originally designed for horses and people. So they have a station design that has gone through many renovations throughout the years."
Steers and his team are now examining how the station's 2-storey design layout and firefighter protocols all contribute to turn out times. The team hopes that their suggested recommendations will also improve performance standards within other stations across the HRM.
"Everything at Station 2, other than the firetrucks, is upstairs," says Steers. He notes that includes beds, kitchen, weight room, and bathrooms. Although the station does include firefighter poles, they are located on either side of the building.
"The rec room is sort of in the middle of the station, so when a call comes in, the firefighters have to walk fast to the poles, and if they don't take the poles, then they'll take the stairs. And taking the stairs isn't the fastest way to get down," he says.
Although the team admits that the facility's design challenges may impact turnout times, it's not the only contributing factor.
Long 24-hour shifts, putting on protective clothing and enhanced safety protocols could all add precious seconds to the clock, especially when those emergency calls come in at night.
"At some stations, the fire pole is not the most used path when responding to a call," says Steers. "But when they do get used, it's one of the fastest turnout times."
"There is no practice drilling system in place, so some people aren't quite as comfortable using the poles as others," adds McCallum. "So if one person is using the stairwell, everyone might as well use the stairwell too."
The team notes that firefighters are even less likely to use the poles at night when an emergency call comes in. Response times spike almost a full minute overnight.
"A lot of these stations are 24-hours, and a lot of these firefighters are asleep when a call comes in. They then have to wake up, put on their socks, their pants and get downstairs," explains Kimbley.
The team says all of their proposed recommendations, including the implementation of a 12-hour shifts, facility design improvements, and formal training sessions are all based on cost-benefit analysis.
"We phrased our recommendations as concrete time savings," says Steers. "For example, if you were to reconfigure the living spaces, it would be a guaranteed three seconds faster."
2019 Capstone Design Conference
The team presented their full list of recommendations at this year's Capstone Conference. The annual event took place at the Westin Hotel in Halifax.
The Capstone Conference is the largest event for Dal Engineering's senior year classes, incorporating all engineering disciplines within the faculty. The conference gives students the opportunity to showcase how their Capstone Projects integrate course work and engineering design skills to provide innovative solutions to local industry partners such as HRFE.
This year, over 400 senior year engineering students participated in the eight-month Capstone course. At the beginning of the academic year, students are placed into teams and are assigned industry or community based projects. Each team works with their client or mentor to solve specific real-life challenges.
This year's event included over 50 industrial sponsors and over 100 student projects.
Visit the DECC website to learn more about this year's conference.