News
»
Go to news main
Dalhousie Professor Inducted as Engineering Institute of Canada Fellow
Posted by
Engineering Communications
on April 4, 2019 in
News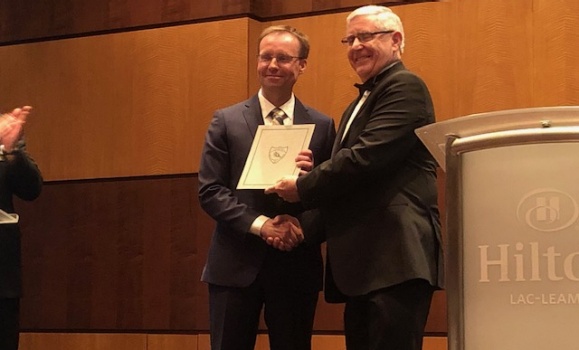 Dalhousie Faculty of Engineering Professor Dr. Craig Lake has been inducted as a Fellow of the Engineering Institute of Canada (EIC). Each year, select individuals nationwide are recognized by the foundation for their excellence in engineering and services to both their profession and society.

Throughout his career, Lake has certainly left his mark.

"I am very honoured to be inducted as a fellow of the EIC. Many of the geotechnical engineers I look up to are fellows of the EIC," he says. "It is a true honour to be acknowledged in the same light as they were."

Praised by students within the Faculty of Engineering for his exceptional and inspirational teaching abilities, Dr. Lake's achievements span beyond the classroom.
For over twenty years, the Civil Engineering professor has been working to protect our environment from contaminated soils and water. Specializing in the area of geotechnical engineering, Lake's research focuses on waste containment systems and how contaminates in sites such as landfills travel through soils and other engineered materials into our environment.
"I enjoy working on research with practical applications," he says. "For example, right now I am doing some work for the provincial government that involves the public, consultants and various government officials. The ability to have even a small impact on engineering practice as a result of research is very satisfying."

Lake has had more than a small impact on his profession. An active member of the Canadian Geotechnical Society, he's also worked with industry groups such as the Cement Association Canada and non for profit organizations such as Divert Nova Scotia. Most notably, he is Editor for the Canadian Geotechnical Journal, one of the top three publications in the world for geotechnical engineering. 

While his research has been published in multiple prestigious journals, he's also had a significant influence on regulators tasked with making decisions on best practices for treating contamination. Yet, despite his many achievements and his recent induction as a fellow of the EIC, Lake is quick to point out that the greatest part of his job happens inside the classroom itself.

"The most rewarding part is teaching others knowledge and seeing them develop as a person," he says. "Every student is different and you can't treat them the same. I honestly enjoy working with students and the enthusiasm they bring."