News
»
Go to news main
Dalhousie Engineering Student Honoured as Role Model to Female Students
Posted by
Engineering Communications
on March 22, 2019 in
News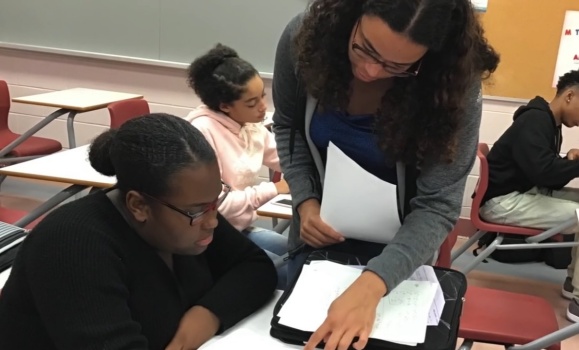 If there is one student with the potential to truly define and inspire the next generation of women in engineering, it is Dalhousie Engineering student Sierra Sparks.
Sparks, a third year Dalhousie Electrical Engineering student, had always hoped to follow in the footsteps of her cousin, Kaitlyn McNutt, an alum of Dal's Chemical Engineering Program. She was inspired to pursue a degree in engineering after speaking with her cousin and learning more about the program's diverse and powerful impact on society. She says she remembers the day her cousin won the 2009 Canadian Engineering Memorial Foundation (CEMF) Undergraduate Ambassador Award and hoped one day she could also have a similar influence on young female students.
This week, Sparks was honoured with that same award.
'A complete student'
Although Sierra holds a perfect A+ GPA, the CEMF Undergraduate Ambassador Award is not a representation of a student's academic performance, but rather their passion and desire to motivate young women in engineering.
In memory of the 14 women from L'École Polytechnique who were killed in a misogynistic terror attack on December 6, 1989, the Canadian Engineering Memorial Foundation presents several scholarships each year to female engineering students across Canada. The Atlantic Ambassador Award is presented to students who exhibit the leadership, passion and drive to serve as role models to their community.
"I'm extremely honoured and proud to have won this award, and honestly it still doesn't feel real," says Sparks, "I'd always hoped to be a role model to young girls, like my cousin was for me. Promoting and being involved in engineering is my passion and I know how impactful it can be to have someone to look up to."
Sparks' CV is long and impressive: Vice President External for the Dalhousie Undergraduate Engineering Society (DUES), Vice President Outreach for the Dalhousie Women in Engineering (WiE) Society, VP Outreach for the Atlantic Engineering Competition, and Official Languages Commissioner for the Atlantic Council of Engineering Students. The list goes on and on, and in addition to all of that, she's also a trombonist with a jazz band made up of other Dalhousie engineering students, and she plays a little softball on the side.
"As VP Outreach for WiE, a highlight was helping out with ENGage in Engineering. It was a full-day event hosted by Dal aimed at teaching junior high school girls more about engineering" she recalls. "It was amazing to see the young girls so engaged, asking questions, and genuinely enjoying the activities throughout the day."
"What has continued to impress me is the number of activities Sierra remains engaged in while maintaining her high academic performance," boasts Faculty of Engineering Dean, John Newhook. "This level of success in various areas demonstrates her personal strengths, determination and incredible character."
Dean Newhook says Sparks is always eager to assist in all outreach activities held by the Faculty, especially those involving young female students considering a degree in STEM (Science, Technology, Engineering and Mathematics) related fields.
"She is a complete student, an impressive person, and a role model for others to follow," he adds.
Sharing her love for engineering
Yet, despite her long list of extracurricular activities, it is Sparks' passion for engineering that has truly made a difference in the lives of many young students across Canada.
"Whenever I'm talking to students in elementary school and high school, I love telling them about my own experiences in engineering. I truly believe that it's a career path that has something for everyone," she says. "I'm especially eager to spread the word to young women, and I'm proud to show them that there is nothing stopping them from pursuing engineering."
Sparks admits that as both a woman in engineering and a visible minority, she sometimes feels as though her skills are underestimated, but the judgement only fuels her drive to succeed.
"If someone believes that I can't do something, or that I don't 'deserve' to be in engineering, then I am dead-set on proving them wrong," she says. "I think that it's important that women find what motivates them, and run with it."
Now on a co-op term with General Dynamics Mission Systems-Canada, Sparks says each day she continues to discover new opportunities available with an engineering degree. While she hasn't yet decided which path to follow, she hopes she can continue to showcase to other women how a degree in engineering can positively impact and benefit society.
"As an electrical engineer, I could work in the biomedical field, in the power industry, in software development, or even work in academia. It's great to have so many options for the future!" she exclaims. "But whatever the future does hold, I'm excited for it, and I hope that I'll be able to continue to inspire young women throughout my entire career."