News
»
Go to news main
GRAD PROFILE: A FULFILLING END TO A FULFILLING DEGREE
Posted by
Engineering Communications
on June 1, 2017 in
News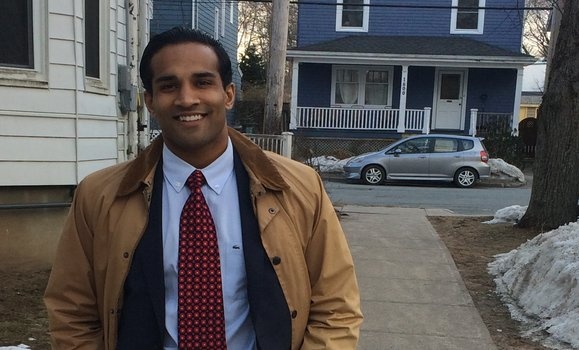 Since moving to Halifax from Winnipeg in 2007 to help his brother recover from hip replacement surgery, Dalhousie Industrial Engineering (IE) student Kiran Persaud has always had an interest in the health-care system in Nova Scotia.

His interest grew even deeper this year as the soon-to-be graduate took a health-related course called "Service Systems" as part of his IE degree.

"The class provided a lot of stats on health-care systems around the world, and it made me realize that despite the great experience my family had while my brother was undergoing surgery, there are some serious challenges within the healthcare system in Nova Scotia," he says.

Bettering the lives of Nova Scotians

As a satisfying end to Kiran's university career, he was given the opportunity to work on a health-related challenge as part of his senior year Capstone Project.

All engineering students within the Faculty of Engineering participate in an eight-month Capstone Project in their final year of studies. At the beginning of the academic year, students are placed into teams and are assigned industry or community based projects. Each team works with their client or mentor to solve specific real-life challenges.

Kiran, along with IE classmates Emma MacKay, Kyle Gillan and Brandel Coolen, were partnered with VON Canada. The organization is the country's only, national, not-for-profit, charitable home and community care group. The company provides home and community care support to clients in Eastern and Central Canada.

"VON extends beyond healthcare within the hospitals." says Kiran. "After walking through the situation with my brother, and then taking the Service Systems class with Andrew Chan, and learning about the challenges in NS, it was important for me to help other people undergo the same level of care my family had experienced."

Within Halifax alone, there are approximately 230 registered nurses who complete over 25,000 monthly visits to homes across the city. Given the aging population of the province and high rates of chronic disease and disability, home and community care support within Nova Scotia has certainly been on the rise.

As a result, VON's workforce management team is tasked with handling increasing patient demands by forecasting staffing requirements. In doing so, they use various tools and data sources to calculate the number of full-time equivalent (FTE) staff required to satisfy these patient needs.

Improving systems

The main tool that VON uses to forecast the required nursing staff is the FTE Calculator, which requires extensive manual data input and may not accurately predict patient demand. Kiran and his team worked to try and streamline the calculator and improve the accuracy of its forecasting model, with the goal of reducing costs associated with over- and under-staffing nurses.

"The current forecasting model was evaluated, data trends were identified and alternate models were investigated," says Kiran. "The FTE calculator was identified as a major tool that could be streamlined by automating the data import process and reducing redundant information."

The automation process reduced the processing time of the FTE calculator by 92 per cent and an estimated 455 monthly data errors were eliminated across all sites.

"The tools and processes developed by our team can potentially increase the level of care given to patients serviced by VON" says Kiran. "It's gratifying to think that we were able to help their managers, while also indirectly helping patients across Nova Scotia.

"A large amount of manual entry that VON managers were originally doing has now been automated, and they can now utilize their time and skills by analyzing data instead of having to input data," he adds.

The team's hard work and dedication was showcased at this year's Capstone Conference in March. Their project, along with 90 other senior year Capstone Projects were on display at the Faculty's largest event of the year.

The conference gives students the opportunity to show the public how their Capstone Projects integrate course work and engineering design skills to provide innovative solutions to local industry partners.

Looking forward

Kiran, along with almost 500 other engineering graduates will accept their hard-earned degrees at Thursday's Convocation ceremonies at the Rebecca Cohn Auditorium in Halifax.

"This university has really shaped my future by providing the resources needed to complete this degree," says Kiran, citing the facilities, the co-op experience and professors.

But Kiran, who is now working with IMP Areospace, admits that the Capstone Project with VON Canada will stand out as one of the best experiences of his university career.

"I've always had an interest in health care. I've followed it through the years with my brother and my wife — who works in health care — and I followed it throughout the entire election process, so having the opportunity to work with VON, and take Andrew Chan's Service Systems class was incredibly fulfilling.

"These Capstone Projects serve as a final test for students before becoming an engineer and students gain valuable experience in the process. The employers involved also gain value-added improvements to their company."

Connecting back to community

Thanks to the impressive work and outcomes Kiran and his team developed this year, members of VON Canada are now keynote speakers at this year's Department of Industrial Engineering Designing Productivity Conference.

The conference, which takes place Friday in the McInnes Room at Dal, brings together industrial engineering and business communities to discuss local productivity, growth, challenges and innovation.

VON Canada will speak to delegates about their experience working with Dalhousie Engineering senior students, and the benefits gained in taking part in the Capstone Project.

"As I'm ending my university career, it makes me feel very accomplished to meet VON's expectations. It feels great, and I hope our work will help inspire