News
»
Go to news main
Female Engineers Stand Out During National Engineering Month
Posted by
Engineering Communications
on March 9, 2017 in
News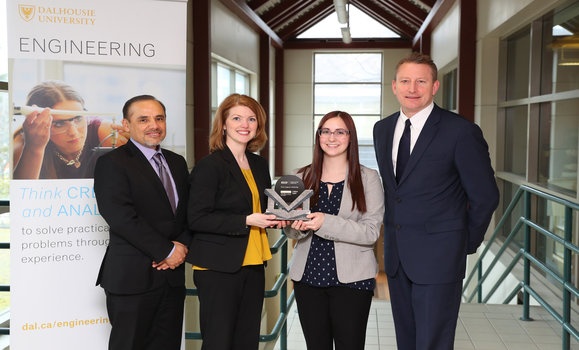 Globally women make up less than 30 percent of the workforce in fields such as engineering and computer science.

On Wednesday, women around the world celebrated International Women's Day; a time to recognize women achievements. March also represents National Engineering month; a celebration of engineering excellence and an opportunity to showcase the value and benefits of a career in engineering.

At Dalhousie University, two women in the Faculty of Engineering are being recognized this week for their accomplishments at Dal and their promise of a bright future in engineering. 

Kelly Services Inc. Future Engineers Award 

For the first time ever, a Canadian engineering students has won the Kelly Services Inc. Future Engineers Scholarship.

Dal third year Chemical Engineering student, Cathleen Lupien, accepted the honour at an award presentation Thursday on Sexton Campus.

The $5,000 scholarship is presented each year to one eligible undergraduate student in either Canada or the Unites States. To be considered, applicants must be full-time engineering student with a minimum of a 3.0 cumulative grade point average (GPA).

The award money can be used towards tuition, fees, books, and room and board expenses for the 2017 calendar year.

"I feel extremely honoured and grateful that Kelly Engineering has chosen me as the first Canadian to win this award," says Lupien.

Since 1946 Kelly Services Inc. has been a global leader in providing workforce solutions and engineering resources to customers in industries such as chemical, medical, pharmaceutical and more. 

The Future Engineers Scholarship was established fourteen years ago to help inspire students interested in engineering, and to build awareness of engineering as career path. Lupien hopes her achievements will help encourage other women to also pursue a career in engineering.

"As an engineerI hope to be a positive influence on society. I feel that it's an extremely fulfilling profession if you are interested in sciences and the application of them," says Lupien. "This field is overlooked, especially by women because of its reputation of being extremely difficult as well as a man's profession. I believe that you do not have to be a genius to become an engineer, as long as you believe in yourself, you can do anything."
Amelia Earhart Fellowship

Another female student in Dal's Faculty of Engineering is making a significant impact in her field of work. Ph.D. student Zohrehsadat Asaee has been awarded the 2016 Amelia Earhart Fellowship.

The prestigious fellowship was established in 1938 in honour of famed pilot and Zontian, Amelia Earhart. The $10,000 (US) fellowship is awarded each year to thirty-five females around the world pursuing Ph.D. doctoral degrees in aerospace-related engineering or aerospace-related engineering.

Asaee, whose area is in Civil and Resource Engineering, will use her fellowship to improve crashworthiness in aircraft. This is the ability to decrease the number of related injuries in aircraft collisions. 
Asaee will be studying advanced composite materials and investigating fiber metal laminates (FML). FML is composed of lightweight metal sheets within layers of a 3D Fiberglass. Little research has been done on these materials. By conducting experimental and computational studies, Asaee hopes to characterize the impact response of these new materials to help increase the safety of aircrafts.