News
»
Go to news main
Dal IE Students Help Dexter Construction Battle Stormy Winter
Posted by
Engineering Communications
on February 17, 2017 in
News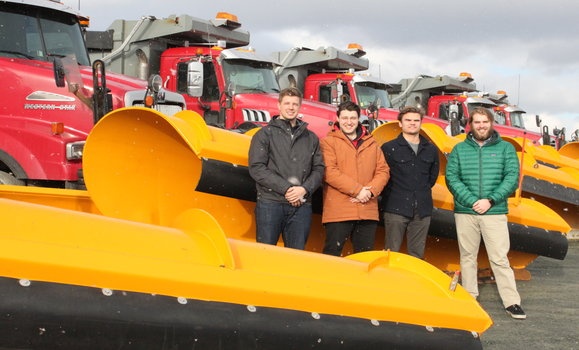 Mild temperatures and a rather green end to the month of January may have led many to believe that we'd escaped winter this year. Those people were wrong.  Back to back snowstorms have pounded the Maritime Provinces over the past week, and there could be more bad weather on the way.

When the snow comes down, the snowplows come out, and amid the group of hard working companies who work tirelessly to clear the snowy streets in Halifax is Dexter Construction, Company Limited.

Unfortunately, when productivity is dependent on the whims of Mother Nature, the snow plowing industry can be a tricky business.

This year however, Dexter is getting some help from a group of Industrial Engineering students at Dalhousie University. They call them themselves the Dexter Construction PII Team. As part of their senior year Capstone Design Project, they have been asked to perform an evaluation of various areas of Dexter's operation processes and make recommendations for improvements based on their educational training and skills.

The PII team, which consists of Tate Linzel, Angus Nelson, Matt Shannon and Matt Lyttle are looking for innovative solutions in areas such as scheduling, shift change processes, routing and resource utilization. And while they hope their results will help Dexter efficiently run their snow plowing operations and reduce production costs, they also hope they can positively impact the community at large.

"Whether you get a parking ticket during the parking ban or you're complaining because your street has not been plowed, everyone is affected by the snow plowing industry. But no one understands what happens behind the scenes," says Linzel. It's interesting to see how much work goes on. The amount of equipment, time energy and cost is enormous.
The PII Team has spent months framing and modeling various situations and solutions to challenges they believed Dexter Construction had not yet considered. They say when working with unpredictable weather, and shift schedules that run 24/7, it was complicated designing models and solutions that would have a significant impact on Dexter's operations.
"Snow plowing is an important part of Dexter's business, and the snow ops team runs a very good operation. They effectively deploy a large amount of resources in a very complex and dynamic environment to meet their contractual obligations," says Linzel. "As a team we realize that we have the unique opportunity to perform a cold eye review of their operation and present some new ideas, that could potentially lead to improvements that adds value." 
Capstone Design Conference 

The PII Team will showcase their work at this year's Capstone Design Conference. The annual event is taking place on March 30th, 2017 at the Westin Hotel in Halifax. Each year, the conference gives senior year students in Dal's Faculty of Engineering the chance to present their design projects to the public.
The Capstone Project is a course that all engineering students take in their 4th year of study. As part of the year long course, students take on industry or community based projects and work with clients to solve real world challenges and offer innovative and impactful solutions.

'People like snow plowing issues, so it'll be interesting to hear what the mechanical, chemical and other disciplines think of our project this year," says Linzel. "The event is also open to the public and media so it'll be great to see what type of feedback we get from that."
The PII team says the Capstone Design course is a great chance for engineering students, especially those who have not done co-op, to work with industry professionals and apply what they've learned in school to challenges they'll someday face in the workface.  
Industry Collaborations 


This is the first time Dexter Construction has collaborated on a Capstone Design Project with Dal, and so far, Michael Parrott, a Project Manager at the company, says he's impressed with the development and potential outcomes he's seen from the PII Team.
"I find the students very professional in their interactions and they are excellent communicators. They seem very comfortable with mathematical methods such as linear programming or coding using VBA," says Parrott. "In my opinion they have demonstrated the ability to be positive contributors in the work force."

Parrott, who's also an Industrial Engineering Alum from Dal, has been working with the PII Team since last fall. He says this type of student to industry collaboration is always beneficial for both parties involved in the project, and contributed to his employment success when graduating from University.

"The organizations get to see, firsthand, the abilities of students, and gain from their innovative thinking and sharp skillsets with minimal cost or risk," he says. "The opportunity is equally beneficial for students to contribute and gain experience on a real world project as they prepare to enter the workforce as junior engineers."