News
»
Go to news main
Extending a helping hand – and some supplies – post‑Fiona
Posted by
Cheryl Bell
on January 10, 2023 in
News

Natasha Smith (left) and some of the DARTNS/Red Cross team
Post-tropical storm Fiona hit Nova Scotia on September 24, 2022, causing destruction and upheaval across the province. For pre-clinical clerk Natasha Smith, it was an opportunity to volunteer her time to help animals, and to get the Faculty of Dentistry involved, too.

Fiona forced many people – and their pets – to leave their damaged or destroyed homes. That's where the Disaster Animal Response Team of Nova Scotia (DARTNS) comes in. Working with the Canadian Red Cross, DARTNS provides temporary shelter for companion animals that have been evacuated with their families during disasters.

Stepping up for homeless animals
Natasha has been a volunteer with the SPCA and Bide Awhile animal shelters, but when she spotted a social media post from DARTNS asking for volunteers post-Fiona, she immediately stepped up.

Natasha and other volunteers worked for weeks to help people and animals who had lost everything. They set up shelters at Sackville Public Library, the Canada Games Centre, and Chocolate Lake Recreation Centre where they provided emergency 24-hour shelter, food, cuddles, and basic necessities for the animals, cleaned and disinfected cages, scheduled visits for owners, and documented daily observations of each animal. A local veterinarian has partnered with DARTNS to help provide 24-hour animal care.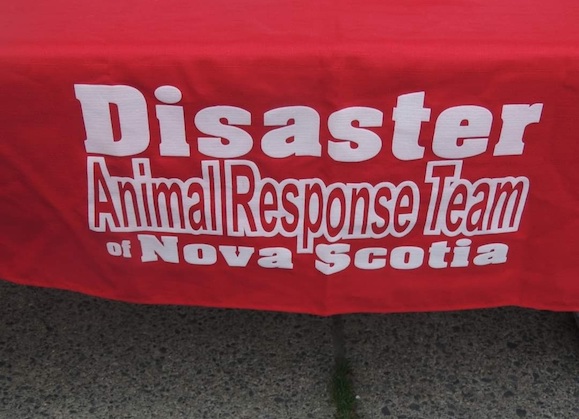 Faculty of Dentistry - happy to lend a hand
Natasha also asked the Faculty of Dentistry if it could help by providing some supplies. As a result, a box of gloves, Kimwipes, and older huck towels and surgery sheets were donated to DARTNS to help care for the animals in the shelters.

"Animals have always been an important part of my life," says Natasha. "People love their pets and do not want to leave them behind when disaster strikes. Being a source of support and protection for those who have no voice and owners who have lost so much, opened my eyes to how much we all take for granted and how important it is to come together and serve our community."
The Faculty of Dentistry received a letter from DARTNS to say thank you for the donation. "We always want to ensure [companion animals] are provided with the best care possible," wrote response director Roger Joyce, "and that of course means the supplies we use while our shelter is in operation."

Audra Hayden, manager of clinical services, says that "our Faculty's foundation is built on helping those in need". Everyone in the Clinical Affairs Office owns a pet, she adds. "So when Natasha reached out with a request for support, we were happy to assist."

DART always welcomes new volunteers and donations of money and pet supplies. Please go to www.dartns.org for more information.