News
»
Go to news main
Zoe Rolle – 2021 QEII Foundation Diversity in Health Care Bursary recipient
Posted by
Cheryl Bell
on December 12, 2021 in
News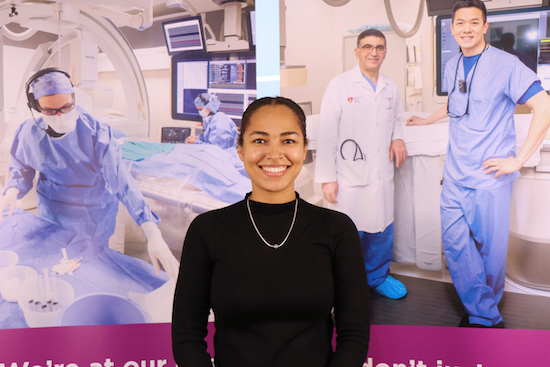 Second-year dentistry student Zoe Rolle is one of this year's recipients of a 2021 QEII Foundation Diversity in Health Care Bursary. Zoe received the good news on her birthday in early October before being officially presented with the award by Susan Mullin, president and CEO of the QEII Foundation.
Created to support students who identify as Black/POC, Indigenous, immigrant, 2SLGBTQIA+, and/or living with a physical, mental health or learning challenge and are pursuing post-secondary education in a health-related profession, QEII Foundation Diversity in Health Care Bursaries are aimed at building a longer-term healthcare system that meets the cultural needs of the people and communities it serves.
These goals neatly line up with Zoe's own beliefs. "As a dentist, you have a dynamic relationship with your patients. In order to accommodate them and their needs, you have to understand  and be empathetic to their situation, otherwise they won't trust you with their care. This is particularly important in Black health care."
Decided on dentistry
When Zoe moved to Nova Scotia from Toronto to study biology at Acadia University in 2013, she already knew that she wanted to be a dentist.
"My reason is such a cliché," she laughs. "I had a great family dentist as a kid, and I loved the experience of going to see him."
As she prepared to go off to university, Zoe was able to spend time shadowing her dentist in his practice. She grew to appreciate the relationships that can be built between dentists and their patients and saw how those relationships can result in improvements in patient oral health over time.
In her last year at Acadia, Zoe applied to both the dentistry and dental hygiene programs at Dalhousie University. She wasn't accepted into dentistry, but her application for dental hygiene was successful. She decided to spend the two years getting her diploma and work on improving her Dental Admission Test (DAT) score.
Zoe has no regrets about studying dental hygiene, which she says prepared her well for studying dentistry and gave her valuable experience of treating patients.
"I really recommend it as a way into dentistry," she says. "It's great to have that oral health background and clinical experience going into dental school."
Even though it makes her already tight schedule as a dental student extra busy, Zoe works two weekends a month as a dental hygienist at Nova Dental in Lower Sackville.
Zoe believes that her dental hygiene training, combined with her dentistry studies, gives her a "deeper clinical experience" that enables her to see and understand patients more fully and to discuss them more comprehensively with the dentists."
Dr. Tesia Rolle (DDS'12) (no relation) is one of the dentists Zoe works with at Nova Dental – and Zoe's own dentist. Both Dr. Rolle and Zoe's family dentist in Toronto are persons of colour and she regards them both as important mentors.
"I think having someone I can relate to is comforting and definitely played a role in my decision to study dentistry," says Zoe. "Seeing what they've accomplished and thinking 'I can do that too!' was a big help. I hope I can give others that same feeling some day!"
The value of applying for bursaries
Zoe is a great believer in bursaries like the one she has received from the QEII Foundation. "Dentistry is an expensive program and bursaries aimed at African Nova Scotians and other diverse groups reduce inequities by helping to cover tuition, books, and even the fees associated with taking the DAT."
Although applying for bursaries is time consuming, Zoe says it is a valuable process – one that she recommends. "I had to write three essays for the QEII bursary about my personal experience in the field, the importance of diversity in health care, and my future plans. It's a lot of work, but it's also a moment to reflect on how far you have come, and to focus on what the next step of your journey is."
The QEII Foundation receives bursary applications from all levels of post-secondary education and from an even greater variety of healthcare programs, including dentistry, nursing, speech language pathology, nuclear medicine and medical laboratory technology – to name a few. The essay portion of the application gives the selection committee a glimpse into the lives of the applicants and their need for support on their educational journey.
"The applications we receive are truly inspiring," says Susan. "We acknowledge and celebrate the time students put into their applications and their commitment to health care. They all have one thing in common – pursuing a passion to help others."
Although she is not quite halfway through her dentistry degree, Zoe already has her sights set on what comes next. "I might pursue a general practice residency so that I can treat more complex cases and medically compromised patients," she says, "or I might get my feet wet in professional practice."