News
»
Go to news main
The Research In Oral Health Student Presentations Showcase – the new Table Clinics
Posted by
Cheryl Bell
on March 11, 2021 in
News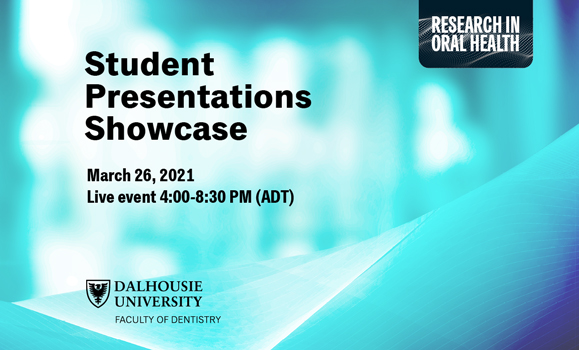 The 51st annual student presentations showcase will take place on March 26, 2021, 4:00-8:30 ADT. Formerly known as Table Clinics, this event now falls under the banner of Research In Oral Health (RIOH) Student Presentations Showcase. The name was changed to reflect a renewed focus on evidence-based oral health research for both dentistry and dental hygiene students.

RIOH Student Presentations Showcase

"This year's RIOH event is taking place virtually," says Dr. Ben Davis, dean of the Faculty of Dentistry. "That means that alumni and other interested oral health professionals can join us from all over North American and even further afield. We have the pandemic to thank for this new flexibility."

That flexibility also prompted a record number of alumni and friends of the Faculty to volunteer as judges this year from all across Canada, and in the US, the UK, and Malaysia.

"We are delighted by the response and that we have many judges joining us this year who wouldn't have been able to in the past because of where they are located," says Dr. Mary McNally, the chair of the Research In Oral Health committee.

Student Presentations Showcase: how it will work
Both dentistry and dental hygiene students will present the results of their independent research. Dentistry topics cover the areas of caries prevention, cosmetic dentistry, local anesthesia, pediatric dentistry, prosthodontics, population health, and orthognathic surgery. Dental hygiene topics range from the oral health implications of sleep apnea and dental anxiety in children, to the impact of obesity on periodontal health and the oral manifestations of COVID-19.

Two sessions will be held during the event, from 4:00 to 6:00 and from 6:30 to 8:30, with an intermission between 6:00 and 6:30 during which Dr. Davis and Dr. Leigha Rock, director of the School of Dental Hygiene will provide an update on developments in the Faculty and answer questions.

"The student presentations are the same in both sessions, so that attendees can choose which session is more convenient for their schedule," explains Dr. McNally. "Students deliver their topics via pre-recorded videos and are then on-hand afterwards to answer questions 'live'."

The winners and the prizes will be announced on the website on April 2.

The Research In Oral Health Committee would like to thank everyone who volunteered to be judges this year and all the sponsors who generously donated prizes.