News
»
Go to news main
Grad profile: One eye on the future
Posted by
Cheryl Bell
on June 22, 2020 in
News
New dentistry grad, Pui Li Lai, considers her next step

When asked what the future holds for her, Pui Li Lai (DDS'20) laughs and says that's "the million dollar question". Far from being worried about the blank slate that she currently faces, she says that being able to explore her options is a good thing. "My degree opened a lot of doors for me. I am free to choose what happens next."

Pui Li arrived in the Faculty of Dentistry three years ago from Kuala Lumpur in Malaysia with two classmates, Khai Shuen Kuu and Justin Yeoh, from the International Medical University (IMU). Together they comprised the pioneering first cohort of dentistry students to complete their education at Dal as part of an agreement with IMU.
Further reading: Moving from a country of constant summer to study dentistry at Dal

Malaysian students are able to study dentistry after a one or two pre-university program, without the need for a first degree. So Pui Li was still only 22 and had already studied dentistry for two years when she arrived in Halifax and was faced with continuing her studies at a new university and in a new country. Everything was different in Halifax, from the climate to the food.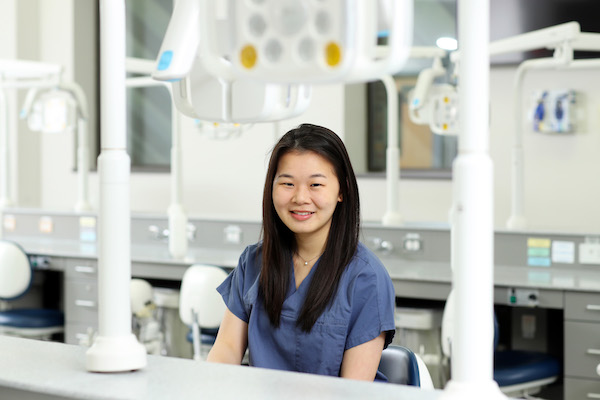 Everything is part of learning
But dentistry was familiar territory and Pui Li feels that she has "reaped the best of both worlds". IMU provided her with a good foundation, she says, which helped to ease her transition to Dal, where she feels she has received a good education.

"The opportunity to come here has been a great learning experience in many ways," she says. Her instructors were "constructive and kind" and, despite concerns about fitting in with a new class, Pui Li says she has made some really good friends. "It was better than I could have ever expected," she says.

Of course, it wasn't all easy, but "everything is part of learning," says Pui Li philosophically. "Sometimes you struggle."

Highlights included arriving at the Dentistry Building in 2017 to find newly renovated labs, where the three Malaysian students spent many hours perfecting their pre-clinical techniques. Rotations at the Victoria General and IWK hospitals, the school-based paediatric clinics, and the North End Community Health Centre were also popular and offered new insights.

"These experiences added another layer to our education and opened our eyes to the different career options within dentistry," says Pui Li.

Weighing up her options
While she weighs up her options now, Pui Li is "not closing the door on anything" including specializing at a later time. Her immediate aim is to keep learning and gain as much experience and expertise as she can to "see if I have a passion for any one type of dentistry".

Having experienced the east coast lifestyle, Pui Li is currently applying for jobs in western Canada so that she see what the other side of the country has to offer. Returning to Malaysia is also on the agenda at some point where she will have to complete her compulsory government service to be able to practise there.

Upbeat about all the possibilities open to her, Pui Li says that a return to Kuala Lumpur would give her the opportunity to hone her skills with a steady supply of patients.

While Pui Li sifts through the options to unearth the answer to the "million dollar question", she remains unequivocally passionate about her choice of profession. "You have to love dentistry to practise it. It's not easy, but if you love it, that will keep you going."