News
»
Go to news main
More than child's play: paediatric dentistry during a pandemic
Posted by
Cheryl Bell
on June 15, 2020 in
News
From left: Dr. Evan Shaw, Dr. Tom Raddall, Dr. Lindsay James, Dr. Tracy Doyle

What began as a normal Dalhousie University paediatric dentistry residency for Lindsay James (DDS'19) and Tom Raddall (DDS'19) was turned on its head by the arrival of COVID-19. While many students and residents across Canada had their educational experience cut short by the pandemic, Lindsay and Tom not only found themselves busier than ever, but also benefiting from a unique learning experience.

Lindsay and Tom joined the IWK dental department as paediatric residents in June 2019 and began the summer by carrying out new patient examinations, recalls, sedations, and gaining a growing amount of operating room experience. By the autumn, they were rotating through all the different departments of the hospital.

A history of working with young people
Both Tom and Lindsay have what Tom describes as a "strong interest" in providing dental care to children and adults with special needs. This interest was developed, in part, through volunteer opportunities with Sharing Smiles Day, the Special Olympics, and the I Am Potential program and paediatric rotations during dental school at Dalhousie University.

Lindsay says she has always been involved with children through sports and summers spent working on research projects with Dr. Tracy Doyle, director of the Dalhousie paediatric dentistry undergraduate curriculum, at the IWK. Tom had also had opportunities to work with children through summer jobs. Both of them saw the paediatric GPR as way to gain more experience in treating children and special needs patients before deciding whether to specialize in paediatric dentistry.

Providing care to many patients
The IWK Health Centre is the only paediatric hospital in the Maritimes. It treats patients from all over Nova Scotia, New Brunswick, and Prince Edward Island with many different medical conditions.

Dr. Doyle explains that in the dental department, the children they treat are a split between those who are healthy with cavities and need specialist care and those with special health care needs who receive ongoing dental care in the paediatric clinic.

"Many of the patients we see have complex medical conditions – heart conditions or cancer, or those who have had organ transplants and are immuno-suppressed – and are therefore at high risk of becoming very ill as a result of poor dental health. These patients must have medical clearances, including from dentistry, before undergoing surgery or chemotherapy. This is an important part of our role as dentists in the hospital," Dr. Doyle explains.

Lindsay says that through working closely with the paediatric dentists, she has learned how to "manage these patients and become more informed about diagnosis and treatment".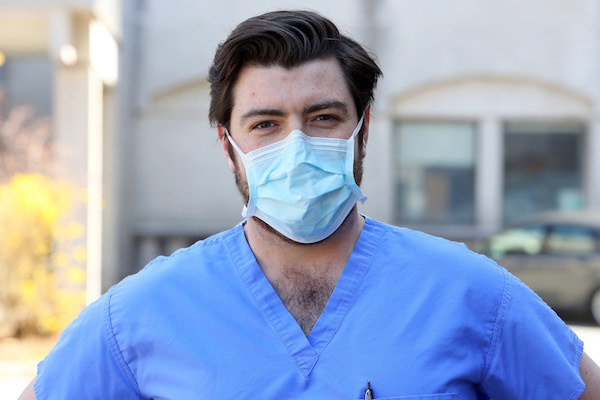 In the time of COVID-19
When COVID-19 struck, everything changed and a quick transition was needed. The dental department stopped providing elective care to patients and began to handle emergency and trauma cases only. Far from being sidelined, Tom and Lindsay found themselves essential members of the team, alternating 24-hour on-call stints and working alongside the paediatric dentists to provide urgent and emergency care.  

"We are probably more on call than most GPR residents at other hospitals in Canada," says Tom.

Dr. Doyle says that Lindsay and Tom "embraced the incredible learning opportunity presented by this unprecedented time. They've been part of the team as we've worked through this together."

The shift to urgent and emergency care meant a lot more time spent on the telephone, however. "Although we are seeing fewer patients," says Tom, "we are making more phone calls to dentists to triage patients and to families to explain the new protocols and procedures. Parents are more anxious, so we find we need to take more time to talk with them."

"I have been continually impressed by Tom and Lindsay's professionalism and work ethic as they navigate the changes to our residency program brought on by the pandemic," says Dr. Evan Shaw, director of the paediatric dentistry general practice residency program. "They have truly risen to the occasion and have continued to provide exceptional care to our patients."  

Both Lindsay and Tom see the experience they are gaining during the pandemic as positive, despite the long hours. They feel that they have a voice in decisions made around the use of personal protective equipment (PPE) and other protocols.

If they have one regret it is that the PPE makes them look scarier to children. "Normally I'd wear a shark pin on my scrubs and use that to break the ice with the kids," says Tom.

Tom and Lindsay's year at the IWK – which will come to an end this month – has also taught them something very important about themselves: they both want to specialize in paediatric dentistry. In July they will begin the Pediatric Dentistry Residency Program at the Boston Children's Hospital and Harvard School of Dental Medicine under the direction of another Dalhousie Dentistry alumna, Dr. Isabel Chase (DDS'00).

Thanks to the experience they have gained by working through the pandemic, Lindsay and Tom feel well prepared for what lies ahead.