News
»
Go to news main
Nicole MacDonald: A 2019 Hu‑Friedy NEVI 2.0 CDHA Scholarship winner
Posted by
Cheryl Bell
on February 6, 2020 in
News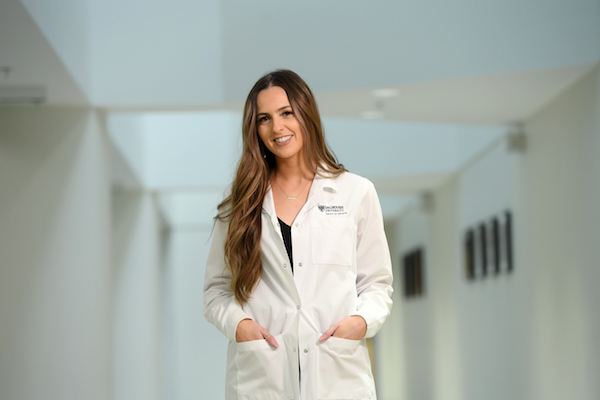 With her sights set on a master's degree in health education and ultimately teaching, bachelor of dental hygiene student Nicole MacDonald is a fitting recipient of a 2019 Hu-Friedy NEVI 2.0 CDHA Scholarship. It is the first time a Dalhousie University School of Dental Hygiene student has received one of these prestigious awards.
Five scholarship winners from across the country were selected, with Nicole the only recipient from Atlantic Canada. The scholarships were created to help support Canadian dental hygienists with further education in bachelor or master's programs.
Originally from Port Hood in Cape Breton, Nicole studied science at St. Francis Xavier University for two years. Inspired by her mother, who worked in a dental office, Nicole then studied dental hygiene at the Canadian National Institute of Health in Ottawa. When she completed the 18-month, fast-track dental hygiene program in March 2018, Nicole practised with the Port Hawkesbury Dental Group at its offices in Port Hawkesbury and Antigonish with Dalhousie alumni, Drs. Jessica Sanford (DDS'16) and Michael Nemec (DDS'78).
Planning to teach
Nicole decided to come to Dal to begin the BDH program in the autumn of 2019, which would set her up nicely for further studies and future teaching.
"I am really interested in research, so that side of the BDH. program appealed to me. I also hope to teach in the future, and as BDH students, we get to teach the first-year dental hygiene students in the clinic. The area of public health interests me," says Nicole, "because it brings together dental hygiene and education."
Nicole appreciates the variety of learning experiences she is gaining through rotations at the Cancer Care Centre, the IWK Health Centre, the North End Community Health Centre, and school visits. She has also been able to take advantage of an internship that has involved her in research and a new fluoride varnish program for schools. She continues to work as many Fridays as she can in her old practice.
Nicole admits that applying for the scholarship was "a lot of work", but she appreciated the support and encouragement the Dr. Leigha Rock, director of the School of Dental Hygiene, was able to provide. To qualify, applicants needed to clear several hurdles, including working in private practice, providing examples of community services and volunteering, and acceptance into an undergraduate, graduate or doctorate program. They also needed to submit a 500-1000 essay about what they hoped to do as a result of that program.

A tough but worthwhile process
The essay was the toughest component, says Nicole. "But I felt like I learned a lot by doing it.  I recommend going through the process because it teaches you about how to communicate professionally and it prepares you for more applications of this sort. When I was finished, I felt like I had a strong application."

Nicole will study for a few extra Dalhousie credits to complete her BDH over the summer and hopes to begin her master's in the autumn.