News
»
Go to news main
It's never too late: Cara Tax's unfolding career
Posted by
Melanie Bremner
on May 2, 2019 in
News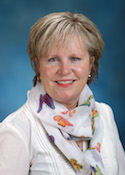 In Cara Tax's eyes, there is a solution to every problem if you reflect on it carefully. "One thing I have learned with aging is patience; we all need to be more patient. We must allow things to happen and move forward with even strides."

It is with patience and even strides that Cara moves forward into retirement, after a successful 44-year career that didn't unfold quite as she planned. "When I first went into dental hygiene in the early 1970s, I wanted a quick job I could do for five years before I turned my attention to having a family."

Soon after graduating with a Diploma in Dental Hygiene from the University of Manitoba, Cara began teaching. The profession looked much different than the one we know today. Then, gloves and masks were not commonplace and hygienists were required to wear clinic uniforms consisting of skirts and white sneakers while sitting strictly in a 7 o'clock position while treating patients.

Cara explains that she has seen many positive changes in the profession since. "I think for some time dentistry and dental hygiene were at odds with one another and now I see that we are collectively breaking down those silos in the interest of more collaborative care for our patients."

Cara was recently instrumental in the implementation of the group practice model for Faculty of Dentistry students this past September which sees dental hygiene and dentistry students treating their patient family together, similar to the private practice model.  

Open to new experiences and new paths

"Over the years, opportunities have come to me because I was continually open to new experiences." Cara says. Allowing life to unfold as it should has guided how she approaches new challenges.  

One such challenge included making the decision to return to school in 2005 at the age of 50 to complete a master's degree in education.

"I've always felt that one part of my life was left unfulfilled." Cara says. "It was one of the best things I've done." Her decision was very much in line with one of Cara's favourite phrases – it's never too late. And it was not too late in 2018 when she was appointed director of the School of Dental Hygiene.

Professor Tax, as she's known to her students, has made many significant contributions to the School and the Faculty, including introducing a teaching methodologies course to inspire students to become instructors. She has led the dental hygiene faculty in renewal of the clinical curriculum, emphasizing a focus on patient care rather than evaluation requirements. Cara has been a long- time supporter of outreach and service learning opportunities.

Cara's career may not have taken the path she initially expected, but it is one that will have a lasting impact on her many students and the Faculty of Dentistry at Dalhousie for many years to come.