News
»
Go to news main
Dr. Peter Cooney applies Irish charm to public health dentistry in Canada
Posted by
Cheryl Bell
on January 15, 2019 in
News

From left: Chancellor Anne McLellan, Dr. Peter Cooney, dean of fhe Faculty of Dentistry Dr. Ben Davis

It would be all too easy to be misled by the twinkling eyes, soft Irish accent, and easygoing conversation of Dr. Peter Cooney into thinking that he is just a regular, meet-in-a-pub sort of guy. And he is. But that's far from the whole story.

At the Faculty of Dentistry's annual White Coat ceremony In September 2018, as part of its 200th anniversary celebrations, Dalhousie University conferred on Dr. Cooney an honorary doctorate in recognition of the many important roles he has had during his career: clinician, mentor, public health practitioner and advocate, administrator, and public servant. It was an honour he has earned.

From Ireland to Newfoundland
Born and educated in Ireland, Dr. Cooney received his Bachelor of Dental Surgery in 1977 from the National University of Ireland. He practised general dentistry near London, England, before moving to Newfoundland in 1979 with his wife, a Newfoundlander. And thus his life in Canada began.

A diploma in public health and a variety of increasingly influential roles in public health in Manitoba and Ottawa led finally to his appointment as Canada's inaugural chief dental officer for Canada in 2004. This was a role to which Dr. Cooney brought great expertise, energy, diplomacy, humanity, and humour so as to engage health professionals, government decision-makers, academics, and individuals in the pursuit of better oral health for all Canadians.

"No single individual in Canada has achieved as much in promoting oral health and acquiring and using the evidence to support advances in oral health program planning and policy," says Dr. Joanne Clovis, adjunct professor in Dalhousie's School of Dental Hygiene. "Dr. Cooney inspired so many to move forward on so many levels in a collective effort to raise the status of oral health out of the doldrums and into the health spotlight."

A game-changing survey of oral health in Canada
As Canada's chief dental officer, Dr. Cooney lobbied for dentistry to be included in the Canadian Health Measures Survey, undertaken in 2007. This was the first national dental survey in 40 years and was, as Dr. Ferne Kraglund, assistant dean of students at Dalhousie's Faculty of Dentistry says, "a game changer for public health dentistry in Canada".

It revealed that one person in three (33%) in Canada has a clinical dental need, half of whom (16%) do not go for care because they cannot afford it. The results were the launch pad for numerous consultations and collaborations aimed at formulating strategies to improve the health care of Canadians.

Respect for Indigenous voices
Dr. Cooney also broke new ground through his leadership in the Inuit Oral Health Survey and the First Nations Oral Health Survey, which took place in 2008 and 2009 respectively.

Dr. Mary McNally, assistant dean of research in the Faculty of Dentistry at Dalhousie University says that these surveys "will have enduring importance and value" as the first and only surveys of this nature to be conducted in Canada, not least for Dr. Cooney's "inimitable diplomacy coupled with tireless networking", which enabled him to bring "appropriate Indigenous voices to guide and support the work".

Improving the oral health of vulnerable populations remains a passion and a mission. In his address at the White Coat ceremony, Dr. Cooney urged new students to consider the many for whom there are barriers to receiving oral health care.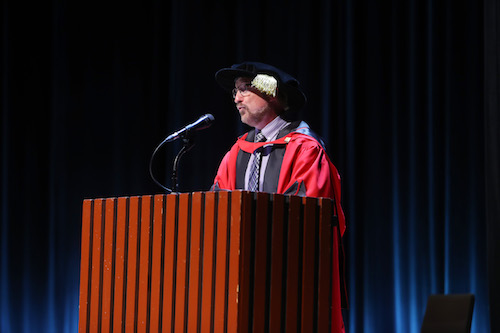 Dr. Peter Cooney addresses students at the annual White Coat ceremony

"As future ambassadors of the dentistry and dental hygiene professions, I would ask you to think about these less fortunate folks who will need care from you in future years. Being a dentist or hygienist really means that you will have a decent standard of living. . .But doing well does not mean that we cannot also do good."

Now retired from his position as chief dental officer, Dr. Cooney remains active in the dental public health community, committed to water fluoridation and looking forward to the next national survey in 2022.

"Despite his innumerable professional accomplishments, he remains one of the most humble, compassionate and thoughtful people I have ever had the pleasure of knowing," says Dr. Kraglund. "His successes have undoubtedly come through his hard work, passion, and dedication to his profession and to the people it serves."

From left: Chancellor Anne McLellan, Dr. Peter Cooney, Senate vice-chair Dr. Tanya Packer