News
»
Go to news main
Bachelor of Dental Hygiene students spread smiles at Mount Hope
Posted by
Katie Ciavaglia
on April 30, 2015 in
Community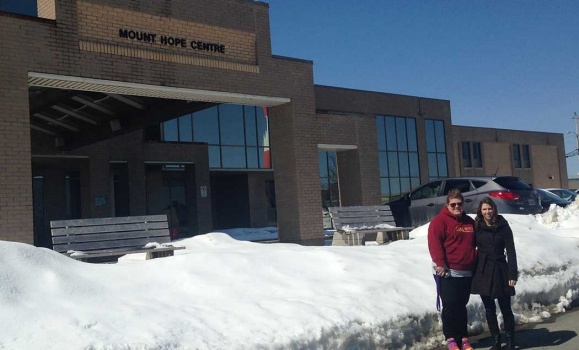 Sometimes we find happiness in the smallest, simplest things. As Katie Miller finished up treatment on her hygiene patient from the Nova Scotia Hospital, she couldn't help notice the joy in his eyes. He was so grateful that someone was taking the time to clean his teeth.
Katie Miller is in the Bachelor of Dental Hygiene (BDH) program at Dalhousie Dentistry and is one of two students who do a weekly rotation at the Nova Scotia Hospital (Mount Hope) as part of her Alternative Practice Settings course.
One of Katie's most memorable patients was a 51-year-old man with Huntington's disease, an aggressive neurodegenerative disease that causes slurred speech and severe involuntary movements of his extremities.
"He was just so happy I was doing this for him, and when I finished treatment he went around showing every single one of the nurses his new shiny white teeth," recalls Miller. "I can't say I have ever had an experience so rewarding, providing someone dealing with such a tragic and devastating disease a few minutes of happiness meant the world to me."
As part of the Alternative Practice Settings course, students are placed in different facilities to provide oral hygiene treatment to underserved populations. The course provides the students with a wide range of experiences and helps them learn about diversity and inclusiveness through treating marginalized populations. Students chronicle their experiences in weekly journals and present research presentations on specific cases they have worked on.
Katie and fellow BDH student Kayla Leary were placed at Mount Hope, a psychiatric hospital that sees patients with conditions such as schizophrenia, depression and bipolar disorder. Although they saw over 25 patients during their eight-month rotation, they initially weren't sure how many patients would agree to treatment.
"Kayla and I did not expect such a positive response," says Miller. "We anticipated that dental fear or phobia would be a large barrier to treatment. However this turned out to be the case in only a few instances."
Many of the patients hadn't seen an oral health professional in years and it was evident to Katie that there was a high demand for their services.
"There are teams of professionals in place at Mount Hope that target physical and mental well-being, but none (aside from us BDH students) who target oral health," says Miller. "Medical conditions often require patients to be on medications which, without proper oral hygiene care, place this population at an increase risk for periodontal disease and caries. They need our help to treat existing oral health conditions as well as to be educated on preventative measures."
Although a very rewarding experience, Katie admits that there were definitely some challenges during the eight-month rotation.
"A lot of the patients are medically compromised and have a lot to deal with in terms of their physical and mental health and adding a third component, oral health, can seem overwhelming for a patient," says Miller. "We try to involve the nursing staff in the patient's oral health care as much as possible to mitigate the stress."
Katie cherished her time spent at Mount Hope and would welcome the opportunity to volunteer there down the road.
"I found it to be a fascinating, educational and incredibly rewarding experience and would do it again in a heartbeat."