»
Go to news main
Meet Dalhousie's top co‑op students of the year for 2021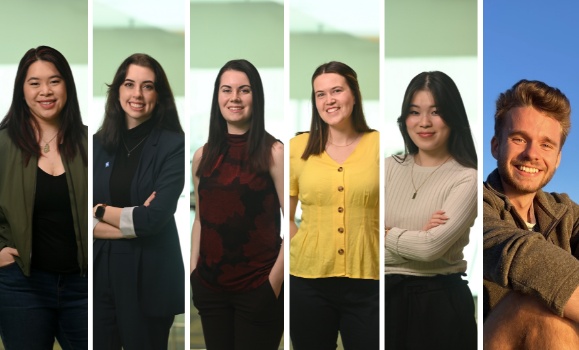 As the pandemic continued in 2021, so did the resiliency and hard work of Dalhousie co-op students, who were determined to make the most of their work integrated learning experiences, whether they were in-person, remote, or a combination of the two. 
In 2021, Dalhousie co-op students completed more than 3,700 work terms. Work integrated learning experiences give students the opportunity to combine in-class education with hands-on, paid work experiences that better position them as future business leaders in our communities.
Coinciding with the National Day of Work Integrated Learning, each year Dalhousie's co-op offices (Architecture and Planning, Management Career Services, and Science, Information Technology, Engineering Co-operative Education) celebrate these work experiences, along with the employer partners who help make them happen, at the Dalhousie Top Co-op Awards. The virtual 2021 Top Co-op Awards celebration is now live on the Hire Dal website. 
Keep reading to get to know the six outstanding Top Co-op Students of the Year for 2021.
Emma Leeshanok
Bachelor of Engineering
"If I have learned anything throughout my time as a co-op student, it's that the relationship between what you studied in university and selecting a career path isn't always straightforward," says Emma Leeshanok. Before she enrolled in the engineering program, she was studying psychology. By chance, she took an engineering class and decided this was the path for her. She says it was the best decision she ever made. 
"Similar to many of my classmates, I opted into the co-op program for the potential post-graduation benefits such as having relevant work experience on my resume, the chance to network with potential employers, and to develop professional skills that weren't typically used in the classroom, not to mention the promise of several semesters of sizable income," she says. "In hindsight, however, I believe that these perks are minor in comparison to the contribution each co-op had on my personal growth and career development."
Emma was encouraged to reflect upon her different abilities. "Working at Irving Consumer Products, I was encouraged to investigate my strengths and weaknesses as an employee, as well as a person. This was a time of great personal development for me as ICP worked with me to develop a baseline of what my current abilities were, and what I could do next to improve myself," she says. 
During her time in the co-op program, Emma discovered what type of career she wants to pursue. "With each co-op, I slowly developed a better understanding of the type of career that I want to pursue. I was able to discover what I enjoyed doing, what I didn't enjoy doing, and career paths that I didn't know existed. The true benefit of the co-op program is the opportunity it provides to students to explore different career options before graduation. Not only has this program help me to hone my technical and non-technical skills, but it has taught me that every experience is valuable and can contribute to my personal development," she says.  
Emma emphasizes that the university experience is not necessarily linear. You may switch programs or take a few extra years to complete your degree, and that is okay. "Even if at the end of the degree you aren't in the place that you expected yourself to be, that's not necessarily a bad thing."
Maya Kerfoot
Bachelor of Environmental Design Studies
Maya Kerfoot describes working in architecture as "putting your whole heart into the work." This is something she was able to experience first-hand during her co-op at Cascadia Architects. "The value of co-op became clear to me as I worked, because all the architects I worked with at Cascadia had been in the same position and carried a unique empathy derived from direct experience," she says. "I never felt afraid to ask for help since I knew people would be eager to help me succeed in the same way other architects had for them. Working in an environment with skilled, dedicated people naturally inspired me to push myself and work on more challenging projects. Being surrounded by good people, to me, is what defines a good practice and a good life." 
 
During her co-op, Maya gained valuable new skills that she feels will make her a stronger student and more capable of translating complex ideas from her brain to the page. "At times, I felt I was learning a completely different set of skills at school and in practice, but it has become clear to me that they are two parts which cannot exist without each other and combine to make a creative yet grounded architect." 
 
Like many co-op students in the past few years, Maya worked remotely during her co-op. "Working online really teaches you to advocate for yourself. If you don't let others know you're having a difficult time, they won't know. It taught me to be self-motivated and to stand up for myself." She also shares that she initially experienced imposter syndrome, feeling intimidated to be part of an esteemed program with talented professors and peers. "While I cannot claim to be completely cured of my imposter syndrome, my co-op did change my outlook. The work term was a personal metamorphosis for me. I am incredibly lucky to have the freedom to pursue happiness as my main goal in life, but I've always had trouble figuring out what form that fulfillment will take. Having worked at an architectural office now, I now feel sure that architecture will be my path to happiness." 
 
Maya is looking forward to continuing her education with a Master's degree and then becoming a registered architect. "I was struck by the capacity architects have to create social and environmental change. I believe that I can be a force for change, and I'm looking forward to using my skills to help people."
Kalleigh Maxwell
Bachelor of Commerce Co-op
Commerce co-op student Kalleigh Maxwell is in the early stages of her career, and she has already developed her own professional networking strategy. She wants other students to know that although it can be intimidating at first, once you get into a rhythm of your own, you'll never look back. "One of my biggest pieces of advice is to talk to everyone you know and get as much information as you can about what they do, their strengths, and their weaknesses and how they overcame them to get where they are." She says this strategy took a lot of trial and error to perfect, but the key is realizing that just because someone works in a more senior position than you, doesn't mean they're above you as a person. 
 
After a year in a program at another school, Kalleigh was drawn to Dalhousie's Commerce Co-op program, both by the proximity to home and to the opportunity to gain paid work experience before graduation. She has completed two co-ops with The Shaw Group Ltd. and continued working with them in a part-time capacity. "Over the past year, The Shaw Group has given me the ability to learn, adapt, innovate, create, and pursue my passions in this industry. My goal was to get hired at the workplace that would develop not only my financial acumen, but technical acumen as well." 

Upon learning that her first co-op would be primarily remote, Kalleigh set her mind to working even harder to stand out and make a difference in the workplace. "I was given a few key projects to work on, which included maintaining a large Excel file. I saw this as my first true project and decided to research how to optimize Microsoft 365. I used this research to fully automate a dashboard, which then made updating the data take no more than five minutes. I realized that process simplification and automation is something I really enjoy doing." 
 
During the 2021 holidays, Kalleigh was awarded a Shaw Brick inscribed with her name — a token given to full-time employees. "I've been able to work on many projects that I'm proud of, but the Shaw Brick is special because I didn't expect to get one," she says. "When I started at The Shaw Group, my manager told me something that reflected the values I grew up with: your co-op is what you make it. If you work hard, you'll get many more opportunities. This has become my motto." 
 
In summer 2022, Kalleigh will be joining Grant Thornton for her third and final co-op, a position she landed through networking. She will then return to classes in the fall, which include analytical and technical courses she is taking to supplement her degree. "In addition to accounting, business analytics and data analytics interest me. I thought that if I can't major in everything, I'm at least going to get a taste of everything."
Alexis Savard-Drouin
Bachelor of Science
"Five-year-old me wanted to do this, and so it's almost like a dream becoming reality."
Alexis Savard-Drouin chose Dalhousie specifically for the co-op program. He knew co-op would allow him to gain experience while test driving different career paths. "A big part of going through the program was discovering what I liked, and what I didn't like. I have discovered that my main interest has evolved from marine biology to biological oceanography. I doubt I would have figured out this career defining moment without the support of the co-op program," he says.
For Alexis, the co-op program gave him the opportunity to understand abstract subjects learned in the classroom. He comments that the academic growth he experienced from work term to work term was striking. "Co-op has immensely motivated me throughout my degree. The progression in the level of challenge and responsibility I was given in each of my work terms contributed directly to my success in the next one. Later work terms were more challenging than earlier ones. I was able to adapt and build on skills I acquired from the previous experiences to be successful in the next one," he says.  Alexis is fortifying the gap between his work experience and classroom learning by morphing one of his co-op terms into his honors thesis. Together with Anna Metaxas, a professor in the Department of Oceanography, he will be turning this thesis into his first scientific publication, of which he will be the lead author. 
Alexis encourages co-op students to look outside the box. For his second and third work terms, he found the positions on his own. There are amazing opportunities out there waiting to be found, he says. For example, Alexis traveled to Bermuda for his second work term.  
Alexis reflects on how much of an impact co-op has had on him. The program allowed him to gain key skills that have brought him to where he is today. "Do it!" he says to students who are considering co-op. "It is a fantastic way for students to put your foot in the door, get early work experience and put yourself ahead in your career," he says.
Kim-Frédérique Viens
Bachelor of Computer Science
Kim-Frédérique discovered their passion for Computer Science while taking a programming class as an elective at another university. They knew Computer Science was their calling, as they could use their technical knowledge to create software to improve people's quality of life. As such, they were drawn to studying at Dal because of the strong Computer Science faculty. 
During her co-ops, Kim-Frédérique was able to see things she learned in class put into practice in the workplace. "The courses on Software Development and Software Engineering were very useful during my co-op as I was able to build upon pre-existing knowledge, making it easier for me to understand how to develop software in the workplace," she says. "Being able to put what you learn into practice makes school much more efficient." The theories learned in class become engrained in you as you use them to perform daily tasks.

Their work terms provided them with experiences that they will carry with them for the rest of their life. "Each one of my co-op experiences was integral to building my professionalism, communication skills, and my technical skills. The variety of organizational structures, organization sizes, job cultures, and fields of work gave me a clear view of what I want for my future. I can feel confident that I now know where I want to work and what I require to build my career," they say. 
When she graduates, Kim-Frédérique wants to make a difference in her community by bridging the gaps with regards to accessibility education. She wants to use her skills to make a difference in the lives of others. "My main interests are accessibility and education, but my true passion is helping people. My intentions are to leverage technological solutions to further those fields," she says. "Accessibility is becoming more and more an important part of technological design and it is our duty to prevent accessibility barriers from being created." 
When reflecting on her co-op experience, Kim-Frédérique says "Co-op brought me many amazing opportunities that made me into the professional I am today. Without it, I do not think I would be doing what I love: using my technical skills for social good."
Monica Whitney-Brown
Master of Planning
When choosing her graduate degree, Vancouver Island native Monica Whitney-Brown was drawn to Halifax. "I wanted my grad degree to be an adventure and a reason to live on the east coast." In 2019, she moved across the country to start her first year of law school. Within several months, she realized that despite enjoying her classes, she did not want to be a lawyer. A stranger at a Women in Law networking event offhandedly suggested that she sounded like she wanted to be a planner. Monica doesn't remember her name but is grateful to her for unknowingly setting her life on a path she feels is the right fit for her. She started her application for the Master of Planning program at Dalhousie that same night. 
 
"When I decided to switch degrees, much of what drew me to the Master of Planning program was the collaborative aspect. However, the pandemic changed the shape of our degree tremendously," she says, noting that there were missed community interactions and hands-on learning opportunities. "These gaps would have felt unsurmountable, but the co-op program helped me cover them. Through my co-op with the Municipality of East Hants, I was able to experience direct community feedback, learn through doing, ask questions, and develop relationships with my supervisor and members of the planning department." 
 
For Monica, working for the Municipality of East Hants was an effective and interesting way to try out planning in a hands-on way. "So much is happening in that department so rapidly. I've seen the scale of change in Halifax in the time I've lived here. But the study of planning doesn't end at HRM's borders. East Hants is also feeling the impact and excitement of expanding," she says.  
 
Monica's keen appetite for learning thrived in the co-op environment. "It's rare to have a workplace experience where you have expectations for performance and professionalism, but the understanding is also that you're there to learn. The people I worked with took this to heart and gave me opportunities to sit in on meetings and look at projects I might not be participating in directly but could learn from. These experiences have changed the way I approach my planning studies, and the way I envision working as a practicing planner." She now intends to work in the field of rural planning after graduation, which she hadn't considered before her co-op with Municipality of East Hants. 
 
Monica and nine of her classmates were approved for a scholarship to spend 5 days of immersive learning about planning in London, England in April. She says that after learning online with her peers, it will be extra special to have this in-person and hands-on experience with them before graduation.