»
Go to news main
Grad profile: Making the most of the experience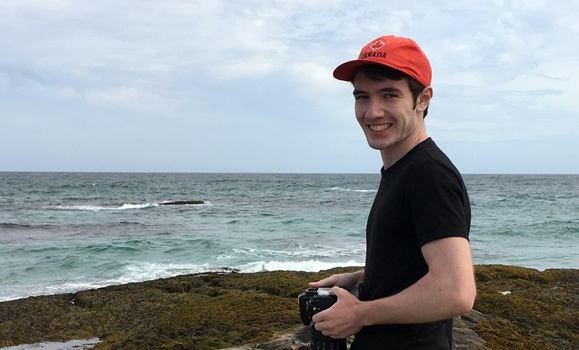 This article is part of a series focusing on the fall grads of the Dalhousie Class of 2020. Visit our Class of 2020 virtual space to share in the excitement with our newest graduates.

It's the experiences outside of the classroom that are making Computer Science student Lauchlan Toal reflect fondly on his time at Dalhousie as he graduates this week.
The backend developer took advantage of many of the opportunities available to him as he navigated his own Bachelor of Computer Science program, from helping other students to taking part in university-level sports.
He summarizes this up nicely when he says, "There's so much going on at Dal, there's something for everyone."
Supporting other students

Within the Faculty of Computer Science, Lauchlan says he "Was able to have more opportunities than I would have expected." One of these opportunities was being a teaching assistant for a mammoth 15 courses.
"I really enjoyed that experience. I've always been interested in teaching. My first job in high school was as a swimming instructor and then I worked for a photography publication writing tutorials," says Lauchlan. "I was mostly involved with the third-year courses which a lot of students have more trouble with. So, I enjoyed being involved with the more challenging subjects and being able to guide students through any difficulties they were having with that. And, of course, it helped with my own understanding too because creating the lab materials and giving the lectures really forces you to understand that material yourself and look for new ways of approaching it."
Lauchlan was also a frequent fixture in the Faculty's Learning Centre, a space staffed by undergraduate and graduate teaching assistants where any Computer Science students can find help and assistance.
While he stresses the importance of students doing independent research to find the solutions to their academic stumbling blocks, he praises this as a resource for all students saying, "It's a tremendous resource and, when you really can't make progress, don't hesitate to make use of it."
Published research

Alongside his work as a teaching assistant, Lauchlan took advantage of the opportunity to explore Computer Science research through two terms taking part in the Undergraduate Student Research Awards (USRA) where he worked alongside Dr. Dirk Arnold on function optimization.
"I'd spoken to a teaching assistant who had done a lot of research at Dal and was on a fairly successful track and I thought it sounded like he was doing some interesting stuff. So, I thought why not give this a shot myself and it turned out to be really fun," says Lauchlan.
A paper on this research titled "Simple Surrogate Model Assisted Optimization with Covariance Matrix Adaptation" was published last month in Parallel Problem Solving from Nature (PPSN).

Lauchlan only has good things to say about his foray into research, "I really enjoyed working with Dr. Arnold and I wouldn't rule a future in research out, if I had the opportunity to pursue it further."
Trying new things

Outside of Computer Science, Lauchlan discovered badminton and even acted as vice-president of the Dalhousie badminton club.
"One of the things I got to experience at Dal was the fact that you have access to Dalplex and that itself is a great resource for students," says Lauchlan. "I was able to start playing badminton which was something I didn't really get the opportunity to do before."
As he starts his next chapter as a backend developer for online sports company Covers.com, Lauchlan uses his own experience to offer words of advice for new and returning students.
"I think it's definitely important to make time for your hobbies outside of school and there's a lot of extra curriculars that Dalhousie supports. I'd definitely encourage students to look into all of the clubs and activities that are happening at Dal."