»
Go to news main
Awards program for East Coast high school students
Posted by
Faculty of Computer Science
on September 25, 2020 in
Outreach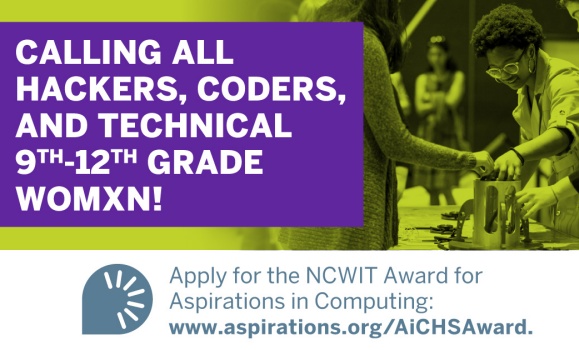 Dalhousie's Faculty of Computer Science is representing Eastern Canada as an affiliate of the NCWIT Award for Aspirations in Computing. 
Traditionally this awards program was exclusively offered in the United States, but recently they have opened up applications to Canadian students!
The Award for Aspirations in Computing (AiC) honors 9th-12th grade students who self-identify as women, genderqueer, or non-binary for their computing-related achievements and interests, and encourages them to pursue their passions.
This award does not require any technical, previous experience but rather focuses on their deep passion for technology. Recipients of the NCWIT AiC receive access to a community of more than 20,000 technical women and exclusive opportunities.
Some of the great perks for winners:
National winners will receive trophies
Honorable mentions will receive certificates
All winners will receive swag from AiC
All winners will be invited to a virtual event presented by Dalhousie Faculty of Computer Science
All winners will gain access to a Facebook group where internships and scholarships will be advertised
All winners will be featured on our social media platforms
A snapshot of the timeline:
November 5, 2020: Applications Close
January 2021: Application Reviews Finalized
February 2021: Awards Ceremony 
For additional information, visit the website and application here.