»
Go to news main
Virtual Hackathon to focus on challenges of COVID‑19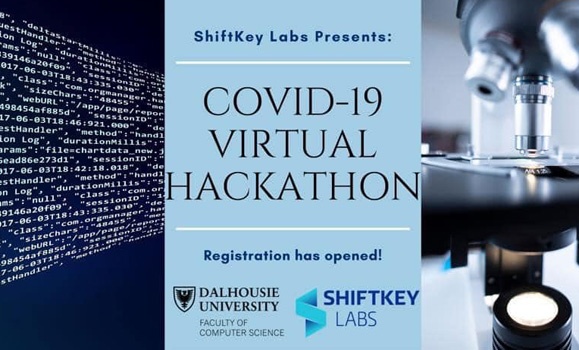 As the world transitions to life during the COVID-19 pandemic, individuals, organizations and governments are innovating to make life better, easier and safer during this unprecedented time. Faculty of Computer Science-based technology innovation sandbox ShiftKey Labs is joining these efforts through its latest hackathon.

Taking place May 4-6, the COVID-19 Virtual Hackathon will see teams of students and professionals come together remotely to find solutions to some of the challenges brought by COVID-19.

Creating solutions

"Some of the challenges participants will tackle include developing solutions for many of the challenges that have arisen as a result of COVID-19 including: combating loneliness, making COVID-19 screening easier for remote communities, and mitigating fake news around the pandemic," says Akram Al-Otumi, manager of ShiftKey Labs.

As with in-person hackathons, students from various disciplines will collaborate with professionals from relevant sectors and industries including healthcare, software and IT, engineering and management. Final ideas will be pitched virtually to a panel of judges throughout the final day of the event.

It is hoped that these ideas and prototypes are used to build products that are ready to help people during what can be difficult times.

Giving back

Albeit a little different in format, this is the latest in a series of hackathons that ShiftKey Labs has organized throughout 2019/20. Other events have included the Atlantic Health Datapalooza which explored patient wait times in Nova Scotia, Atlantic Canada's first NASA Space Apps Challenge, Banking and Insurance with TD and CGI, Government Technology, Diversity and Inclusion, and a VR Oceans Challenge.

Not only is ShiftKey Labs hoping to give back through the solutions developed at the hackathon but also through the prizes.

"We wanted to find a way to give back to our students, local businesses and broader communities through this event. Rather than the usual corporate prizes, we have purchased $5,000 worth of gift cards from local businesses who may have been affected by COVID-19, so it's for good all round."

Registration for the COVID-19 Virtual Hackathon for teams and individuals is now open and will close April 23.