FCS News
»
Go to news main
99 All around Superstars: Annual Academic All‑canadian Luncheon Celebrates Student‑athlete Success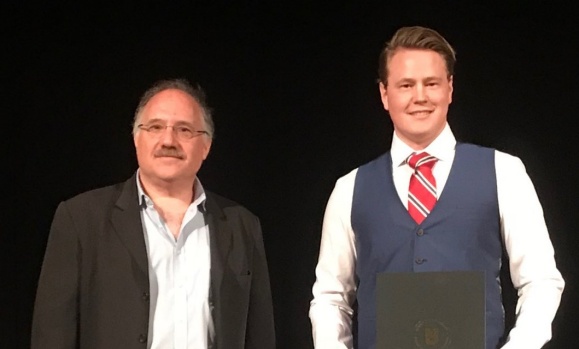 Seventy student-athletes took to the stage this afternoon to be honoured by parents, coaches, mentors and staff at Dalhousie's 19th annual Academic All-Canadian Luncheon, to celebrate their successes on and off the field of play. 
A total of 99 Dalhousie varsity student-athletes achieved U SPORTS Academic All-Canadian status during the 2016-17 school year. To qualify as an Academic All-Canadian, student-athletes must maintain a GPA of at least 3.50, over the academic year while competing in a varsity sport. Hard work, dedication, sacrifice and support are crucial in these students' lives.  
Dalhousie's Vice-President Research Alice Aiken, applauded Dalhousie's student-athletes on their discipline and commitment to being successful. "You have achieved so much through hard work and discipline. A never give up attitude and the power of working as a team will help you continue to rise to the top in all you do. Thank you for representing our university so well."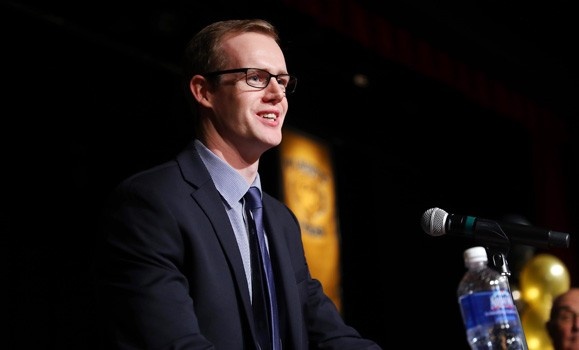 Hockey player Luke Madill.
Fifth-year hockey player Luke Madill spoke on behalf of the student-athletes, thanking those who help them achieve success.
"Members of the Dalhousie community have always been there with unwavering support to help us reach our goals. From faculty and staff to our coaches and team staff, we could not have gotten where we are today without the help and support of so many people."
In addition to honouring the student-athletes, the luncheon also applauds the individuals who've helped the student-athletes achieve their goals: their academic mentors. Honourees were given the opportunity to invite a faculty member to the reception, someone who had been vital to their success as student-athletes. 
Madill continued by saying, "Our parents are always there for us, providing us with a lifetime of support. Thank you to everyone who has helped us along our way."
"We encourage our student-athletes to strive for excellence in the classroom and in sport," says Tim Maloney, Executive Director, Athletics and Recreation. "To be able to recognize them and the people that have helped them succeed is something we take great pride in." 
Dalhousie's Academic All-Canadians - 2016-17
Faculty of Arts and Social Sciences
Diedre Alexander, basketball
Amy Appleby, volleyball
Hannah Ascough, cross country
Cassandra Bagnell, volleyball
Daniel Gorman, track & field   
Faculty of Computer Science
Alec Karlsen, swimming
Orjan Monsen, swimming
Alex Pawelczyk, hockey
Faculty of Engineering
Matthew Coolen, track & field
Matthew Donovan, volleyball
Robert Engert, soccer
Mike Evelyn, hockey
Brenna Kettlewell, soccer
Angus MacIntosh, cross country/track & field
Matthew Manuel, curling
James Matthews, soccer
Nicholas Zachernuk, curling 
Faculty of Graduate Studies
Michael Brophy, curling
Livia Clarke, track & field
Brendan Gemmell, track & field
Hannah Noseworthy, soccer
Ryall Stroud, basketball
Colleen Wilson, cross country/track & field
Jacob Wing, cross country/track & field
Faculty of Health
School of Health and Human Performance
Raquel Bachman, curling
Mati Barrett, hockey
Amanda Bowles, soccer
Alex Carson, basketball
Emma Ciprick, volleyball
Mieke DuMont, volleyball
David Kerr, track & field
Tony Liew, swimming
Fabiana Petricca, hockey
Adam Spragg, volleyball
Michaela Walker, cross country/track & field
Tanner Williams, hockey 
School of Health Sciences
Jonathan Doucett, soccer 
School of Nursing
Abby Czenze, volleyball
Kenzie MacPhee, hockey
Anna McCrea, track & field
Scarlett Smith, soccer
Schulich School of Law
Adam Karakolistrack & field
Faculty of Management
Corbin Boes, hockey
Rachel Carr, hockey
Kristin Clarke, curling
Alex Cote, hockey
Kevin Duong, basketball
Stephanie Dyck, soccer
Sonja Gashus, track & field
Kallen Heenan, soccer
Wes Herrett, hockey
Matthew Jackson, curling
Adam Karmali, basketball
Colin Long, cross country
Luke Madill, hockey
Samantha Mallon, swimming
Elyse Marble, swimming
Gareth Nicholson, hockey
Colton Parsons, hockey
Maya Reynolds, track & field
Faculty of Medicine
Stephanie Dennis, swimming 
Faculty of Science
Alexis Bragman, swimming
Harrison Callghan, volleyball
Rebecca Chilvers, hockey
Ross Chricton, basketball
Elizabeth Comeau, track & field
Corinne Desjardins, hockey
Anna Dunn-Suen, volleyball
Sophie Gaube, basketball
Haley Glazebrook, soccer
Hannah Gonzales, basketball
Ashley Jackson, basketball
Paige Jamieson, soccer
Ann Johnsen, swimming
Manolhas Karkada, soccer
Sydney Kenney, soccer
Erica Ladham, track & field
Kaitlin Lamont, swimming
Matthew Leighton, track & field
Abby Llewellyn, cross country/track & field
Halle Loyek, swimming
Andrea Lyon, hockey
Jenna MacDonald, cross country
Meg MacKay, swimming
Daniel Maguire, cross country
Allister Mason, cross country/track & field
Meagan McKenna, soccer
Kayla Ogilvie, hockey
Morrgan Payne, swimming
Samuel Prystupa, soccer
Brooklyn Rawlyk, cross country/track & field
Olivia Ross, track & field
Jack Schembri, soccer
Jackson Sinclair, swimming
Sven Stammberger, basketball
Keenan Teghtsoonian, swimming
Shaylynn Tell, cross country/track & field
Maya Venkatamaran, soccer
Olivia Zanatta, volleyball