FCS News
»
Go to news main
$50,000 investment for student and alumni founded start‑up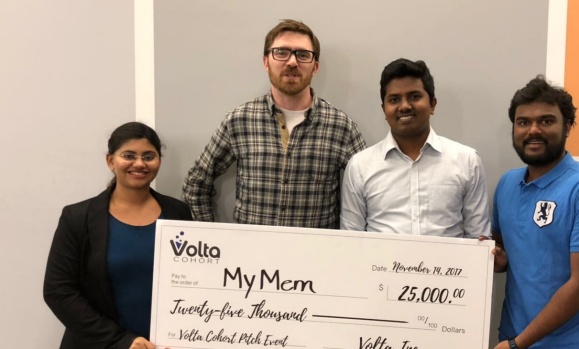 A siri-like app, developed by current and former Dalhousie students, to assist older people and those with dementia to recall information easily and independently using artificial intelligence has recently been awarded $50,000 investment after success at national and regional competitions.
Two weeks ago, Volta Labs in partnership with Innovacorp and BDC Capital, launched the Volta Cohort – a new $125,000 micro fund for Atlantic Canadian early-stage companies. The Dalhousie-based team, MyMem were one of five Halifax companies to be awarded a $25,000 funding and mentorship package at the November 14th launch event, following a competitive pitching process.
This follows similar success at a national ideathon competition. Back in October, AGE-WELL Network of Centres of Excellence and HACKING HEALTH hosted the culmination of a Canada-wide competition to identify and invest in new technologies and services to support healthy aging. MyMem placed second in the national initiative and took home $25,000 investment.
A solution for dementia sufferers
MyMem is the creation of alumnus Eric Fisher (PhD Biochemistry & Molecular Biology '13) and current Master of Applied Computer Science program students Harish Gopinath, Arun Athisamy, and Aishwarya Ravichandran.
"We wanted to develop a solution for dementia sufferers and their families to makes things easier for those suffering from memory loss, their caregivers and families," said Ravichandran.
"Through AI based personalized voice command, MyMem helps people living with dementia recall information quickly and independently, and hold onto memories and experiences. It will enable users to access important information and photos by voice command, requiring very little proficiency with technology. We hope the app will be fun to use as well as helpful and believe this could change the way disorders such as dementia are approached."
Continuing to innovate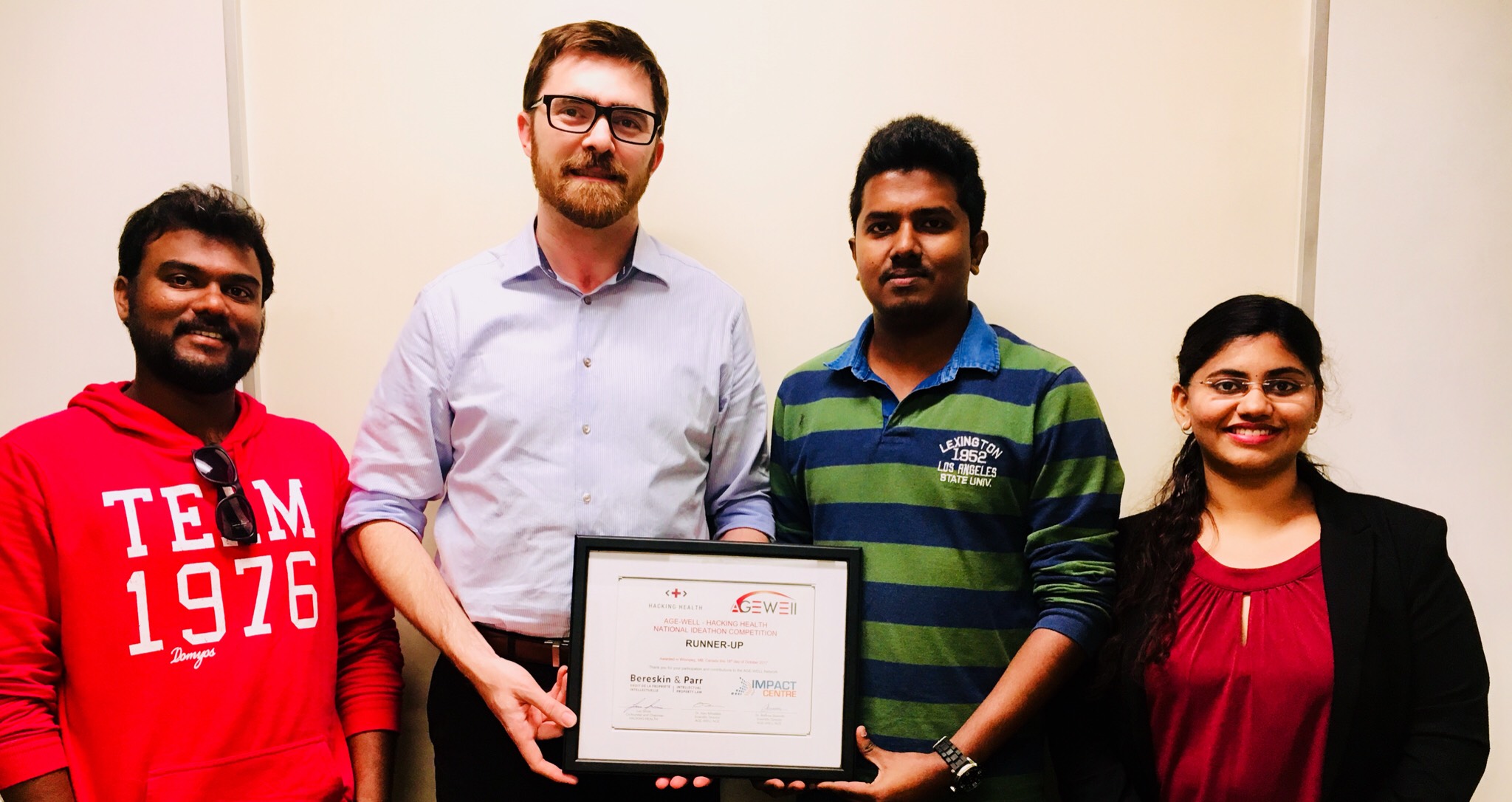 MyMem's recent accomplishment follows first-place success earlier this year at HACKING HEALTH HALIFAX in March, and Nova Scotia Sandboxes Introduction to Innovation Bootcamp in May.
The team is based out of innovation sandbox ShiftKey Labs in the Goldberg Computer Science Building, where they have benefitted from the expertise of lab manager, Grant Wells.
"MyMem have shown real potential since the idea was first conceptualized earlier this year," says Wells. "The app could have a huge impact on people's lives and the way in which health professionals deal with dementia, related disorders and those living with them."
Following their recent wins, MyMem are looking ahead and moving forward with tailoring the app to better serve customers.
"The investment from both competitions will make a huge difference in how we can continue to innovate and develop the best product possible for users," Harish Gopinath says. "We are hoping to go public with the app in 2018 and the investment of support and money we have received so far will really help to make this happen."