FCS News
»
Go to news main
5 reasons why you should visit us at Open House
Posted by
Brandon Poole
on October 18, 2017 in
News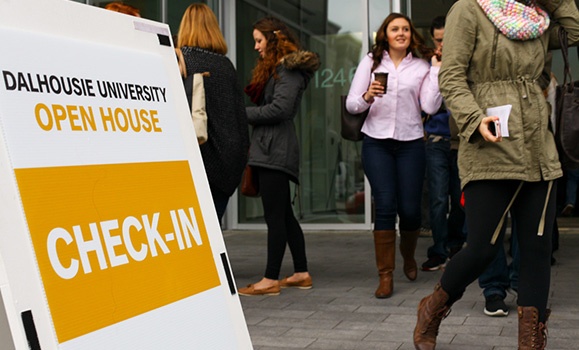 Our doors are opening this Saturday for Open House, but what does that mean? Well, it's an opportunity to learn about what it's like to be a Dalhousie University student directly from the Faculties you're interested in. 
So why should you attend the Faculty of Computer Science's Open House session? We're glad you asked.
 
1. Learn from the Best
We'll be running a lecture-style info session at 9am as well as 10:30 where the Dean of Computer Science has put together a slide deck of how the Faculty is growing at an amazing rate and what that means for prospective students when it comes to more opportunities.
You'll also hear from current students representing the two degree options we offer: Computer Science and Applied Computer Science. They'll talk about their experiences in the Faculty and any advice they have for students thinking of joining us.
Of course, if you have any questions for them, you'll be able to ask. If you can't make it out, don't worry. We have a Student Ambassador program just for you!
 
2. Explore our Building
Our home, the Goldberg Computer Science Building boasts six computer labs, a lecture hall, and multitudes of study & collaborative space, there's lots to see. We also have a Learning Centre for students to receive help from current Teaching Assistants, an innovation incubator, and a Second Cup for when you're craving that morning coffee.
 
3. Scholarship Opportunities
You can get a jump start on what scholarship opportunities are available in the Faculty of Computer Science. From the standard entrance scholarships to the new Women in Technology Scholarship, we're going to discuss it all. Although, if you think we're going to stop there you guessed wrong. We're also going to talk about how to keep that money coming your way throughout your degree with third and fourth year scholarships, as well as our cooperative education (co-op) program!
 
4. Interactive Mini-sessions
We have three interactive mini-sessions planed for our Open House. You can choose between creating your own mobile Android application, using the MYTech Lab to experience the latest in wireless technologies and cyber security, and learn more about design for users in a special interactive session led by the Women in Technology Society.
All sessions are created and run by our professors and senior students in the faculty. You'll be able to get a taste of what a real lab exercise is like before you start classes!
 
5. Network & Eat
Of course an Open House would not be complete without food. We supply complimentary refreshments during your visit, and you will also have plenty of opportunities to ask current students and staff questions, as well as follow important social media accounts.
If you have any general questions before or after this weekend, remember that you can message any of our social media accounts. For more specific questions about high school requirements or the application process, send us an email.

Find out more about Open House, the academic sessions available and register online.