FCS News
»
Go to news main
CS students develop winning solution to support dementia sufferers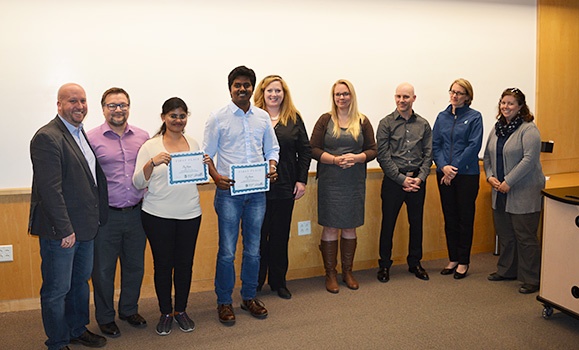 A team of students from Dalhousie's Faculty of Computer Science took home $7,500 from the Nova Scotia Sandboxes "Introduction to Innovation" Bootcamp to develop their ideas for a tech-based solution to support individuals suffering from dementia.

Master of Applied Computer Science students Aishwarya Ravichandran and Harish Gopinath's team MyMem, beat 19 other teams from Dalhousie, Acadia, NSCC, St. Mary's and Mount Saint Vincent to claim first place in the intensive four-week long bootcamp.

"We recognized that dementia and associated memory loss can cause major problems for those living with the condition, including loss of independence and peace of mind," says Aishwarya. "We wanted to develop a solution for dementia sufferers and their families to makes things easier for them."

Through AI based personalized voice command, the team identified a way to use technology to help people living with dementia recall information quickly and independently.

"We are also exploring the use of cognitive brain games, featuring a potential sufferer's memories, to identify the different stages of dementia for family and caregivers," adds Aishwarya. "We believe this could have a huge impact on the way disorders such as dementia are approached."

MyMem were also first place winners at Hacking Health Halifax in March 2017.
Hands-on introduction to innovation
 
The Introduction to Innovation Bootcamp, aimed at post-secondary students and new graduates, was developed by sandboxes from across the province, including ShiftKey Labsbased out of the Faculty of Computer Science, to introduce new entrepreneurs to start-up methodologies and design thinking, providing them with the support and advice to develop their innovative ideas.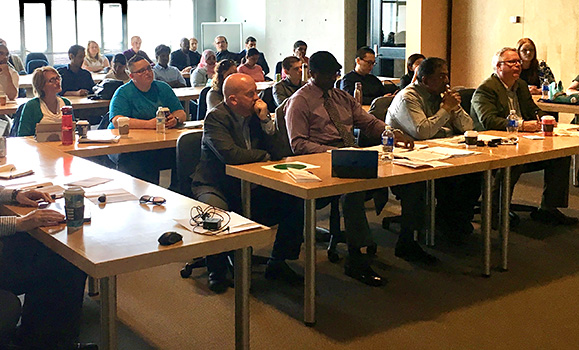 Four weeks of hard work, including a 2-week residency at Acadia, culminated in final pitches in front of a panel of expert judges and potential investors at Dalhousie's Faculty of Computer Science on May 25, with $15,000 dollars up for grabs for the top three placing teams.

"From supporting the local beer and wine industry to youth retention in Nova Scotia, we saw an impressive range of ideas come out of the bootcamp from the next generation of entrepreneurs," says Grant Wells, manager of ShiftKey Labs. "Initiatives such as this prove how much emerging start-up talent there is in the Province, and through Nova Scotia Sandboxes we are dedicated to supporting entrepreneurs get their ideas off the ground.

"MyMem's pitch stood out for the judges as it has real potential to be developed as a product which could change the way in which health professionals approach dementia and related disorders."

The top three placing teams included third-place Kinematic World — also from the Faculty of Computer Science — which took home $3,750 to develop their mobile fitness game to encourage increased physical activity amongst gamers.

All three now go forward to a second Project Incubation Bootcamp. This advanced 12-week session will support teams with existing projects to take their ideas to the next level, with a total of $50,000 in prize money available to winning teams.