Regional Forum on Closing the Gender Gap in Digital Workplaces: Building the Talent Pipeline for Women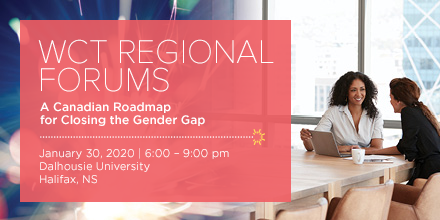 There is one woman for every four men in digital workplaces in Canada. This gender gap adversely affects our ability to compete in the knowledge economy and contributes to the ongoing chronic shortage of skilled labour in this sector.
Join us with Women in Communications and Technology as we bring the first of three regional summits to Halifax where experts will explore winning strategies that help close the gender gap. This summit will focus on talent development from high school to advanced education and early career attraction and retention of women. We will discuss real world case studies that include tested solutions.
Women in Communications and Technology (WCT) is the only national organization with community chapters across Canada dedicated to keeping a persistent focus on the under-representation of women in digital industries. This event is one of three regional summits being held across Canada that will contribute to a roadmap for improved inclusion of women in the sector.
Join us to meet the experts and learn about innovative strategies that can help you attract women and diversify your talent pipeline.
#upthenumbers
This event is one of three regional summits funded by the Department of Women and Gender Equality.
Time
Starts:
Ends:
Location
Goldberg Computer Science Building
Dalhousie University
6050 University Avenue
Halifax
Cost
Individual (non-WCT Member): $25
Individual (WCT Member): $10
Additional Information
Agenda:
6:00pm: Welcome and networking
6:30pm: Presentations and panel discussion
8:30pm: Reception
Regional Forum on Closing the Gender Gap in Digital Workplaces: Building the Talent Pipeline for Women