Summer Institute in Leadership and Innovation Program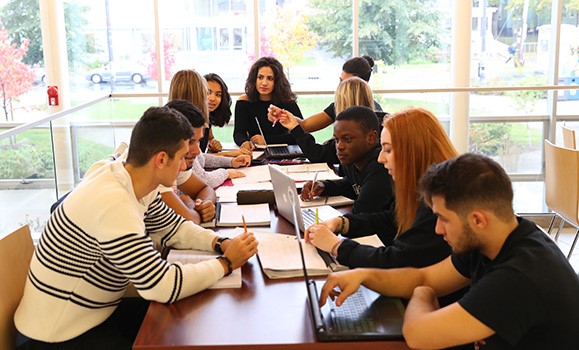 Discover your potential on Canada's East Coast
Come to Dalhousie University, one of Canada's leading research universities, for three weeks of immersive study that will sharpen your leadership skills and enhance your ability to drive innovation. Taught by faculty members from Dalhousie's Rowe School of Business, you will define your leadership style and acquire problem-solving and teamwork strategies that will support you throughout your academic and professional career.
During the Summer Institute, you will meet innovation leaders and visit some of the city's most exciting organizations. You will also tour cultural and natural landmarks, taste unique Maritime cuisine and enjoy coastal views that will take your breath away. Join other students to learn valuable intercultural skills while navigating a safe new city and culture. You will leave Halifax with a fresh global outlook and a network of friends that will last a lifetime.
What you will learn
Upon successful completion of the program you will be able to:
Understand and demonstrate leadership behaviors, attitudes, skills and competencies (BASC)
Create, define and assess your own leadership style
Lead responsibly and demonstrate values-based leadership
Effectively engage and lead teams within, across, and external to the organization
Recognize what a culture of innovation and creative problem-solving is and how to create and lead it
Demonstrate complexity and systems thinking through strategic analysis, problem identification and problem-solving capacity
Program details
Dates: To be announced
Format: In-class, enhanced with organizational and cultural visits
Age requirement: 18+
English requirement: IELTS 6.0 or TOEFL iBT 80 or equivalent
Program Fee: $6,500.00 CDN per student. A non-refundable application fee of $200 must accompany your application. Dalhousie University is not responsible for any fees paid for travel, visa or medical insurance.
Fee includes
Tuition and learning materials
Accommodation in a dormitory residence
Orientation and farewell events    
Catered lunch on class days
Social and cultural activities
Ground transportation to site visits
Airport transfers
Certificate
Questions about the program
Debbie Gordon, Program Director
Dalhousie University
College of Continuing Education
902-494-2100
debbie.gordon@dal.ca
dal.ca/faculty/cce/programs/summer-institutes.html
How to apply
Review the Admission Process details.
Complete the fillable PDF Application Form (download file to use).
Submit Application Package including a $200 CDN non-refundable application fee.