Canadian Risk Management Program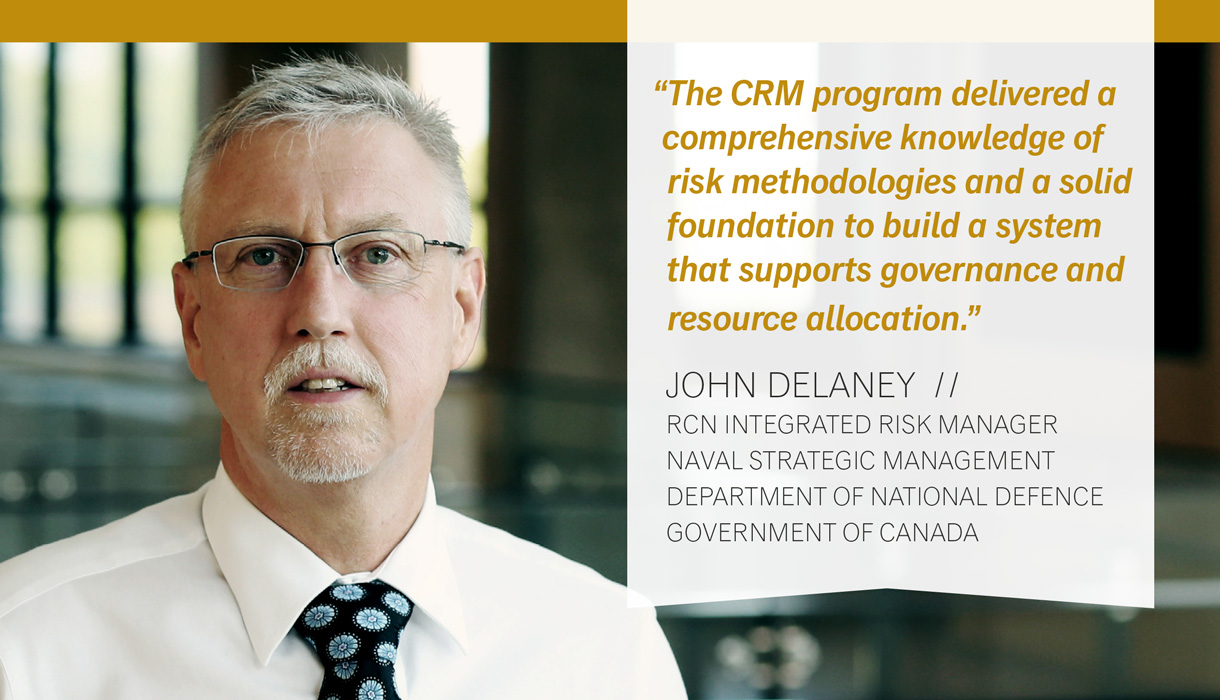 In-demand skills for effective managers
Risk management plays a crucial role in just about every corporate or public sector decision today. That's why the demand for managers with formal risk management training is escalating—and why now is the time to build your skills in this emerging field. You'll become a better manager and distinguish yourself among colleagues and competitors.

Our program consists of three comprehensive management courses focused on nurturing your ability to analyze and communicate risk, and developing strategies for assessing and addressing loss. All courses are delivered in person to small classes, allowing you to develop a powerful network of peers in an impactful, hands-on learning environment.
Who should attend?
Risk management training isn't just for professional risk managers. It's invaluable to a broad range of individuals, at all career stages, including:
•    Human resource managers
•    Insurance underwriters and claims adjusters
•    Finance professionals
•    Public sector managers
Accelerated learning experience
Our program is one of the quickest paths to professional designation in the country. In under one year, you can complete the required courses and be eligible to take the Global Risk Management Institute's Canadian Risk Management exams, the country's leading designation in the field.   

Whether you seek a professional designation or not, this program will substantially increase your confidence, effectiveness and value to your organization.
---
Canadian Risk Management courses
Our courses are designed to be taken in sequence, building up your core risk management skills logically and effectively.
Risk Management Principles and Practice - Register by September 28, 2020  
An overview of how to identify, analyze and monitor risk. A prerequisite for the other courses.
Risk Assessment and Treatment 
What causes an accident? What are the best strategies for treating risk? Explore the latest theories and strategies.
Risk Financing - NOW ONLINE
Learn about the selection, implementation and monitoring of risk financing techniques, including insurance options.
---
Risk Management seminars
Our two seminars are an ideal introduction to the field of risk management. They also provide a solid starting point for those considering the Canadian Risk Management Program.
Enterprise Risk Management Essentials
Risk management is crucial to today's corporate decision-making. Learn the foundational theories, processes and framework.
Insurance Bootcamp: Insurance Essentials for Non-Insurance Professionals
Demystify the world of insurance. Learn to use insurance more strategically and optimize its benefits.
---