ESL Communication + English in Use
Experience Canada and a Canadian University!
July 16 - Aug. 10, 2018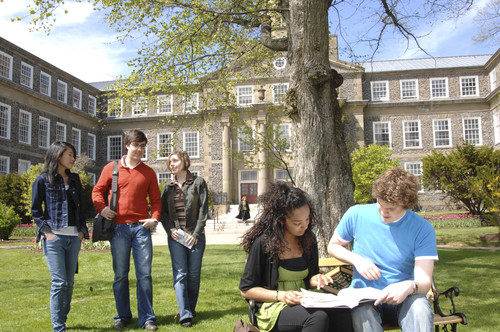 Registration Closed for Summer 2018.
Learn English by Living in English
Are you a university student or a recent high school graduate? Dalhousie University's Summer English in Canada program combines English classes with practical opportunities to practice your English skills.
Mornings consist of intensive reading, writing, speaking and listening classes from 9:00-12:30.
In the afternoons, the Interacting with the English Language workshops will allow you to use the language you've learned in real-life situations in the community from 1:30-4:00.
On weekends, visit the beautiful parks, beaches, lakes and historic sites the province of Nova Scotia is famous for. Halifax is Canada's friendliest city and it comes alive in summer with festivals and events. There's time for shopping and nightlife, too!

Safe and Convenient Housing
You will stay right on campus in one of the university residences. English-speaking Canadian language assistants live with you in residence for conversation practice and to provide you with information and organize activities. You will have the opportunity to speak English every day in class, around the city, and at home in residence. 
Click here to read more about Dalhousie University and Halifax, Canada.

Course Fees (per person) : $3300 CDN
Included in the fee:
Tuition
Books and learning materials
Academic outings
Access to Dalhousie's Virtual Learning Environment
Accommodation in a Dalhousie residence
Wifi Internet Access
Health insurance while enrolled in the course
City bus passes
Weekend activities and trips
Please note the fee does not include international travel, the IELTS preparation course, meals and incidental expenses.