Cuba
Study in Cuba
With Dalhousie University, you are invited to explore two distinct programs: the Cuba Study Tour, and the longer Cuba Semester Programme. Both of these programs are administered through the Department of International Development Studies.
I. Cuba Intensive Program
Offered every April, the Cuba Intensive Program consists of lectures in Halifax and then two weeks in Cuba (last full week of April until the end of the first week in May) with the Facultad Latinoamericana de Ciencias Sociales (FLACSO) at the University of Havana.
In Cuba, students learn about Cuban culture and society by attending daily lectures (translated into English) and visiting sites in and around Havana. Students will be required to keep a daily journal, complete all required readings, and prepare a research paper on an approved topic related to the Cuban development model.
The programme requires living in shared accommodations with basic facilities.
Cuban Culture and Society (INTD 3310.06, crosslisted with SPAN 3310.06) counts as one full credit. Recommended prerequisites are INTD 2001.03 and INTD 2002.03 or equivalent, but these are not required. SPAN 1020 X/Y.06 is recommended but not required. This class is open to all students in their second year of study or above.
To apply, download the application form [Word-30KB]. Applications will be accepted from students in their second year and onward. The deadline for first round applications is at the end of January.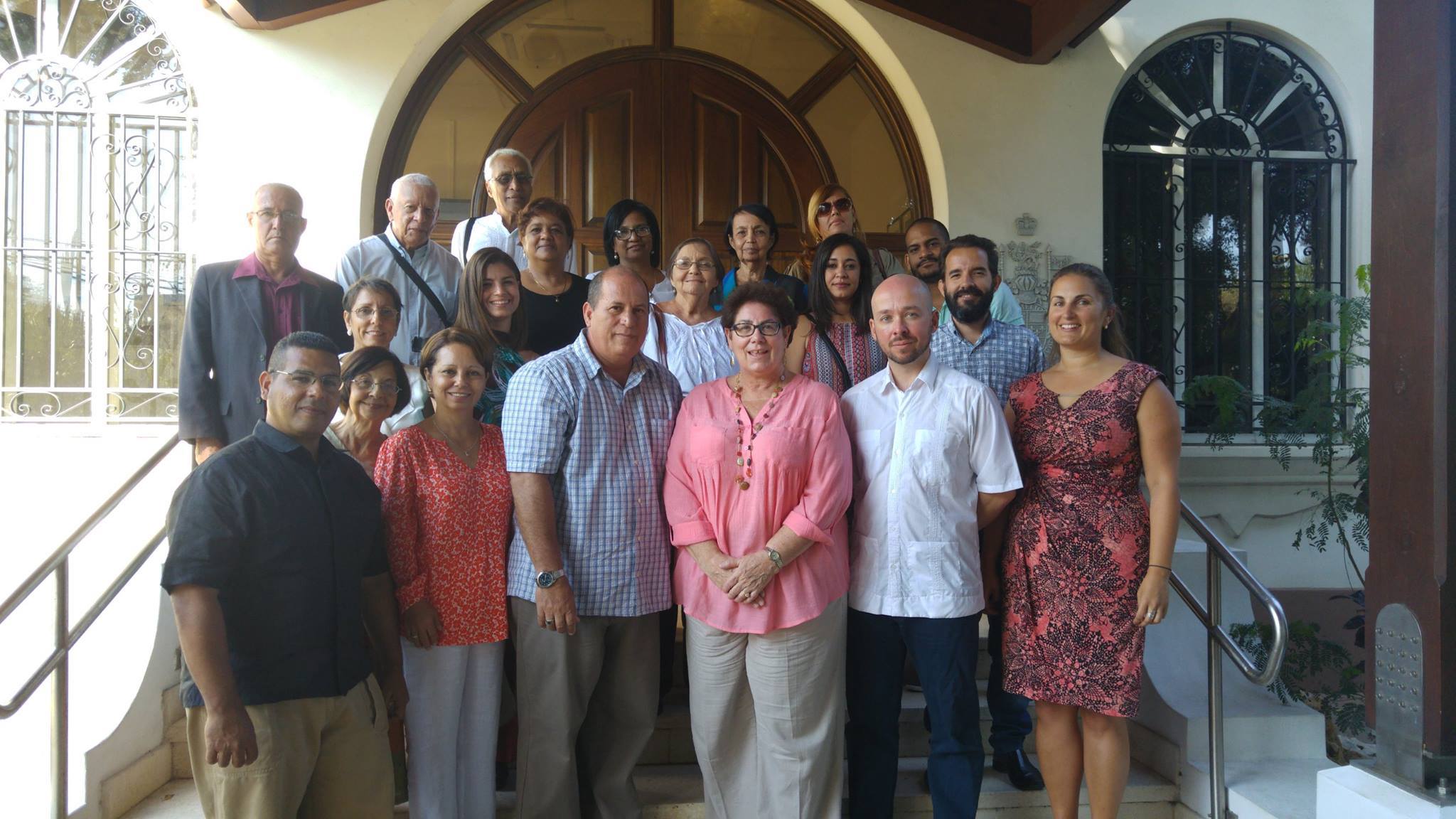 Program Coordinator Marian MacKinnon, and Prof. Robert Huish at the Canadian embassy in Havana with our faculty partners from FLACSO.
II. Cuba Semester Program
The Cuba Semester Program is a longer program — lasting 13 weeks — and is worth 18 credit hours, either in IDS or Spanish. Students enrolled in their third or fourth years of the IDS, Spanish or equivalent programs will need to read, write and speak in Spanish (at least two years of Spanish or equivalent) to participate. Prerequisites: SPAN 1020.06, SPAN 2020.06 or equivalent.  Students from other Universities are invited to apply with a Letter of Permission from your home University.
Offered only in January, the Cuba Semester Program is a collaborative project between Dalhousie University and the Facultad Latinoamericana de Ciencias Sociales (FLACSO), a regional organization in Latin America for the development of social science research and post graduate studies. FLACSO-Cuba is located at the University of Havana.
The semester provides for an intense learning experience. The first two weeks are spent upgrading Spanish language skills and getting accustomed to the Cuban dialect.
From there, the next six weeks are spent learning about Cuban society: its economy, politics, environment and educational system. The classes are conducted in Spanish.
The next five weeks of the program are set aside for an internship and research. Students write a research paper in Spanish which is presented to the FLACSO faculty and the class.
The format, in brief, is:
Two weeks: Spanish language with FLACSO
Six weeks: Classes with FLACSO-University of Havana
Two weeks: Internship in Pinar del Río

Three weeks: Research Paper and Paper presentation
The courses taken during the Cuba Semester Program are:
Spanish Language and Grammar (INTD/SPAN 3301.03), 3 credit hours;
Social Development in Cuba (INTD/SPAN 3302.03), 3 credit hours;
The Political Economy of Cuba (INTD/SPAN 3303.03), 3 credit hours;
Sustainable Development in Cuba (INTD/SPAN 3304.03), 3 credit hours;
and Field Research Practicum (INTD/SPAN 3306.06), 6 credit hours.
Of course, taking classes is just one part of the educational experience in Cuba. Students board with Cuban families, visit field sites, and engage in Cuban culture.
To apply for the program, download the application form [Word-28KB]. We are accepting applications now for both programs!
Contact us
Marian MacKinnon, Cuba Program Coordinator
902-494-3814, cubaprog@dal.ca