Lyn Estuye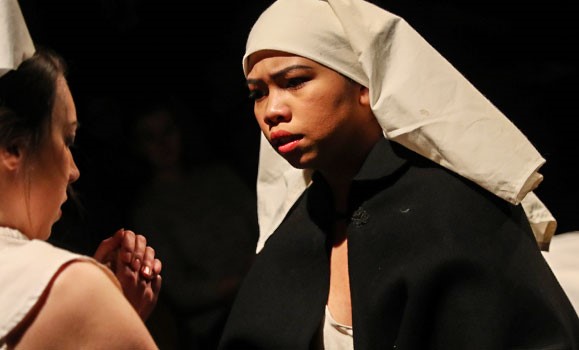 Lyn Estuye performs in the Fountain School's Don Juan Comes Back From the War
When Lyn Estuye was very young, she often pretended she was a famous actor. But it never felt like something she could pursue as a career. "I did sing on stage and act in high school plays, but I was never sure I was good enough," she recalls.
Yet others recognized her budding talent and encouraged her to keep at it, from her family to people in the theatre community of Yellowknife. "I kept meeting alumni who told me Dalhousie was the place to go to develop my confidence and learn the craft," she says. "They were right. My professors have been amazing, and I feel like I could go to London or New York when I graduate thanks to the techniques and critiques I've received from them." 
 Recognized with a David and Andrew Stitt Memorial Prize, which is awarded to third-year students who show promise in acting, Estuye believes the Performing Arts Campaign will create a bold new environment where even more students gain the confidence and skills to succeed on stage and screen. "It's awesome that there will be more practice spaces and a new concert hall for learning and performing, but more than that, it's nice to see so many people showing their support for us and the arts."