News
»
Go to news main
Muse‑inspired victors of Pythian Games 2017
Posted by
Classics Department
on March 20, 2017 in
News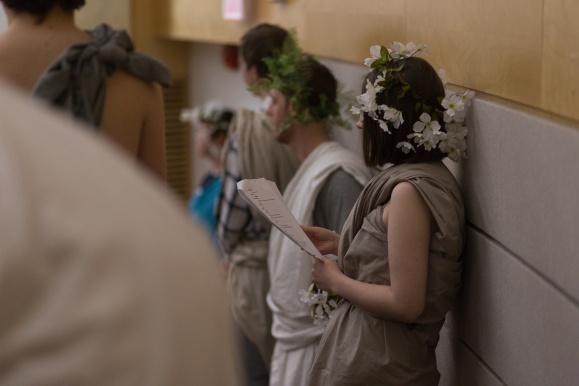 This year the Pythian Games were held on March 10, at the Scotiabank Auditorium. Performances were offered in 9 different languages: English, Latin, Ancient Greek, Old Norse, German, Hebrew, Hindustani, Turkish, and Sumerian. Although the competition was tough, the following acts were awarded the prizes:
Res Publica Prize ($75): Tanisha Chakma, Kathak: Classical Indian Dance
The Patrick Atherton Memorial Prize ($100): Torin Vigerstad, Virgil's 1st Eclogue
Alumni Prize ($100) Shari Clarke, Time Travels, and Allison McLay, Principessa Sacco Charteao Induta
Chair's Prize ($150) Ethan Speigel, Selections from Cicero's 2nd Catiline Oration
The Howard Murray Prize ($250) Benjamin von Bredow, Emma Graveson, Jen Hall. Alan Rempel, Penthean Passion Chorale
Congratulations to all our winners and participants! Click here to see photos from the event.