Pythian Games 2014
The Titans have returned and the results are in!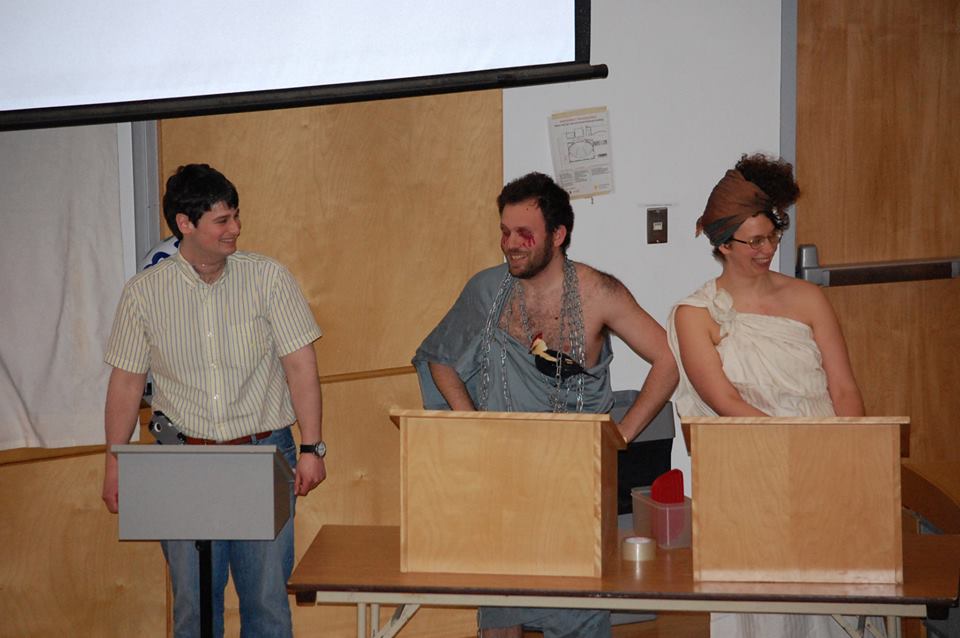 (Three Titans - played by Justin Singer, Aaron Shenkman, and Kaitlyn Boulding - competed in an entertaining, if not somewhat biased, version of Jeopardy: Titanomachy!)

Sacred to Apollo, Greek god of music, art, and plague, the ancient Pythian Games featured competitions in declamation, reading aloud, poetry, and rhetoric. Our revived Pythian Games likewise feature Dal students' talents at literary and artisitic performance!
This year they took place on March 21st, at 5:00pm in the Scotiabank Auditorium and were a tremendous success!
(our beloved Praecentor, Dr. Jack Mitchell, fully at home in his toga)
The competition was fierce this year, but the following individuals and groups walked away with the top prizes:

The Howard Murray Prize: $250 - Mr. Bryan Heystee, Ms. Meg Shields, and Ms. Kate Jordan for "Plato's On Hot Dogs" (an original work in English by Bryan Heystee).
The Chair's Prize: $150 -Dal's Own 2nd Year Greek Class ("The Parasangs") for "Battering Ram" by (Miley) Cyrus the Lesser (English and Ancient Greek). 
The Alumni Prize: $100 - Mr. Torin Vigerstad for Homer's Illiad 1.1-53 (Ancient Greek).
The Publica Prize (for best performance in a living language): $75 -Mr. Nicholas Foran for Dante's Inferno Canto III, 1-21 (Italian)
The Dr. Patrick Atherton Memorial Prize (for best performance in Latin): $100 -Mr. Bruce Russell for "Poema Epicum Canadense" (an original work in Latin). 
Also, be sure to check out the pictures and winners from last three games at Pythian Games 2013 and the official website, Pythian Games 2014!
(Kate Jordon, Bryan Heystee, and Meg Shields took top prize with their investigation into the gastronomical aspects of Plato's thought in an original, On Hot Dogs)