News & Events
Canadian Studies News

Welcome (back) to campus
If you have any questions about your Canadian Studies courses or how Canadian Studies can enhance your degree, please feel free to contact us at cana@dal.ca

Dr. Jerry Bannister was invited by the University of Rostock to give a talk on Current Trends in Canadian Studies. The lecture took place in Rostock, Germany, on February 2, 2018.
Race in a Glass Nation: Fragility and dissent in the university and beyond with keynote speaker, Dr. Sunera Thobani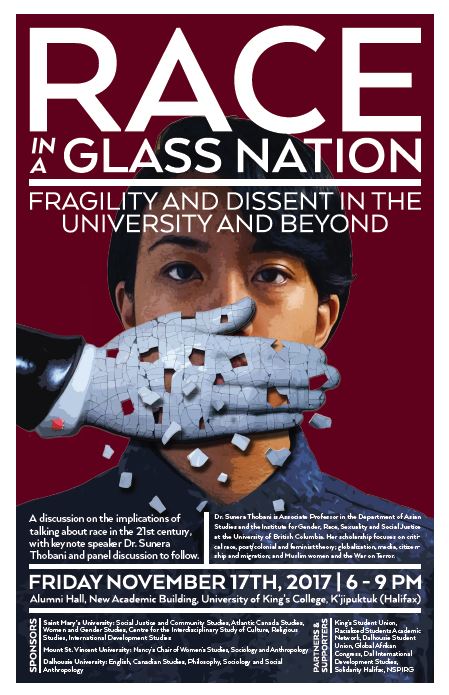 Join us for a discussion on the implications of talking about race in the 21st century, with keynote speaker Dr. Sunera Thobani on Friday November 17th, 6-9 p.m., Alumni Hall, University of King's College.
See the full poster [PDF 1.4 - MB]

Dal researcher appointed vice‑chair of Indigenous health advisory board
Dr. Margaret Robinson is named vice-chair of the Canadian Institutes of Health Research's (CIHR) Institute Advisory Board on Indigenous Peoples' Health.
Read the full story.

International Summer Institute on Migration and Identity


Follow the Summer Institute on Facebook.
 
What is Canadian Studies?" #GenYAsksY and the Classroom of Canada

The following post is the fifth in a series that features collaboration between the Acadiensis blog and the students in Jerry Bannister's undergraduate and graduate Canadian Studies and History classes at Dalhousie University.

Read Joy Ciccarelli-Shand's (BA Major Conversion: Sociology & Social Anthropology and Canadian Studies with a Minor in Psychology) post here (27/03/17).

Wave2Trudeau rally aimed at getting the prime minister to fulfill water promise on reserves
Vada White (Double Major in Gender & Women's Studies and Canadian Studies with a Minor in Indigenous Studies) is featured prominently in a recent CBC story regarding protests calling for clean drinking water in Indigenous communities. Read the full article here (26/03/17).
Congratulations!
Congratulations to Jacqueline Smith who was awarded a Certificate of Distinction at the 2015-16 Dalhousie Impact Awards.
This award is presented to students who demonstrate above-average contributions to campus life over the course of a university career, based on a DSU-determined points system. Points are awarded for holding positions within the DSU, being members of Dalhousie societies, holding residence leadership roles, and other extracurricular involvement.
Thank you for all your hard work Jacqueline!