News
»
Go to news main
Eat & Meet Concept a Finalist in Refugee Challenge
Posted by
Emily Cote
on April 17, 2017 in
News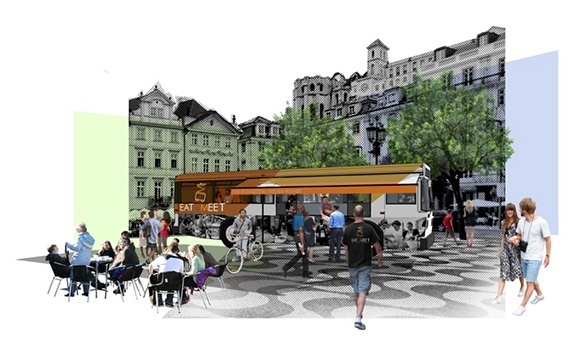 Food creates community. And when Dalhousie Architecture student Jennifer Kinnunen (BEDS'15, MArch'17) was on a work term in Brazil, she quickly learned that the best way to bond was over a good meal.
"While in Brazil, my colleagues and I would watch as refugees and their customers shared food and got to know each other," says Kinnunen, who as a first-generation Canadian, with Finnish and Italian parents, appreciates the importance of bringing together different cultures.
Kinnunen and her colleagues (Camille Marshall, Marie Legleye, Elias Sougrati) turned this connection into inspiration for the international What Design Can Do 2016 Refugee Challenge competition, which sought to find ideas that could help refugees integrate into urban life.
"We recognized that our service needed to be more than buying cuisine from refugees," says Kinnunen, "that social integration is multifaceted and therefore we needed to provide additional spaces for integration to occur."
Eat&Meet proposes to do this through the transformation of city buses into food trucks, which will be used by refugees to make food from their country. Each week for 52 weeks, a new recipe is introduced that allows the chefs to share food and a story from their culture. Proceeds are split between the workers and local integration projects within the community. It makes use of architectural design to unlock cultural barriers for refugees in their new homes and break down walls between themselves and their new neighbours.
According to Kinnunen (above), the team is working with five refugee chefs from three different countries with their first test dinner focusing on Sudanese meals.
Eat&Meet was one of five finalists in the Refugee Challenge competition, put on by What Design Can Do, IKEA Foundation the and United Nations High Commissioner for Refugees. Winners walked away with 10,000 euros and help from experts in their field to turn their design into a salient way of creating social change. To say the least, placing in the competition is a big deal.
Eat&Meet is hoping that its concept will support long-term integration of refugees into their new homes, decreasing prejudice and stigma. It will provide them with jobs and the ability to make use of their valuable skills and, at the end of the 52 weeks, the recipes that were used are compiled and published.
"Supporting refugees is an international responsibility and at Eat&Meet we believe that love is greater than hate and nothing brings us together like a warm plate," says Kinnunen.
For more information about the project, visit its website.