Riley Kilfoil
One year later and Riley Kilfoil knows he made the right decision.
A plant science diploma graduate, Riley was one of the first students to apply for the Faculty's newest program, the Bachelor of Technology in Small Business Management.
"It has been the right choice for me," explains Riley. "I really appreciate the business edge I'm gaining. I can take this program and come out with a degree to go along with my plant science diploma," he added.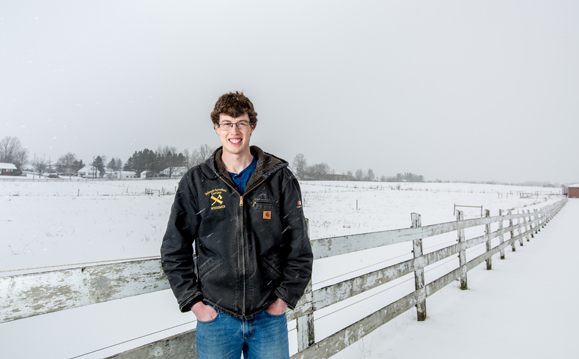 The Bachelor of Technology in Small Business Management is a two year, post-diploma program that complements technical training and expertise with business skills and knowledge. This powerful combination opens new opportunities for students in business ownership and management. The program is designed for graduates of virtually any non-business, two or three-year diploma program who are seeking to take the next steps in their career.
Although he didn't grow up on a farm, that didn't stop Riley from getting involved with agriculture at a young age.
"My two uncles are potato farmers and I was always visiting with them in the field and riding with them in the tractor, from a very young age I started helping them do small jobs on the farm. I've always loved the idea of farming and using hard work, love of the land and raising animals to put food on the table for other people."
Riley also chose to work while taking his classes this year and appreciated the flexibility of the program.
"This year I worked several jobs on campus as well as one off-campus," said Riley. "The program has an open schedule to allow for activities such as work, athletics or clubs."
Riley plans to utilize his plant science diploma and the business degree he will earn from Small Business Management to start up his own mixed farm.

"I'll be starting from scratch so I will be putting my knowledge to use. My diploma will give me the science background I need for farm animal nutrition and care. The degree will teach me how to manage my own business. Plus, I'll be able to get my degree in two years, rather than having to do another four years of schooling."
Riley strongly recommends this program to students who are eligible to enrol.
"The best part of the program, I think, isn't just learning the business skills, I think it's broadening who I am as a person and opening up doors for me that I might not have considered before."
Riley is passionate about building a farm on his own and producing quality meat grown from feed grown on farm and raised in a sustainable and safe way.
"I want to provide people with food that allows them to see how it's produced, why they are raised, fed and treated medically the way they are and to be able to confidently eat their food without any doubts," he explained.
After one year of the Small Business Management program Riley adds, "I'm more open to entertaining ideas of operating other agricultural enterprises such as custom farm work as well as work around integrating nutrient management planning into business plans to strengthen them.
Dalhousie University is now accepting applications. For further information or contact Dr. Steven Russell