Mitesh Patel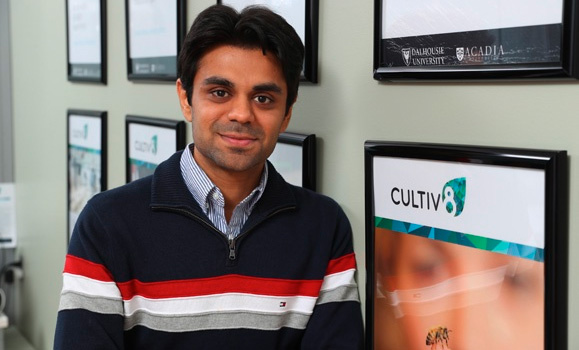 Moving halfway around the world from Gujarat, India, to Canada, Cultiv8 ambassador Mitesh Patel knew he wanted to follow in his father's footsteps and become an entrepreneur. His greatest challenge though was his fear of speaking English in front of an audience. Once he joined Cultiv8, the agricultural sandbox on the Truro campus, this fear quickly faded away.
"I can talk all day long in my native language, but English is a whole different animal," Mitesh smiles. "I landed in Canada with my mediocre English skills and was in the worst shape. Cultiv8 boosted my confidence and now I feel confident enough to deliver a presentation at any given time!"
Cultiv8 is a collaborative program offered to Dalhousie and Acadia students offering students access to industry mentors and entrepreneurial resources. It's a student space where ideas are explored, entrepreneurial skills are developed and opportunities are realized. Students are given the opportunity to explore entrepreneurship through programs, mentoring, interactive workshops, and test their skills through pitching competitions.
"Every semester we participate in a Business Model Competition, Sprint Ag Competition, or Lean Canvas Competition at Acadia University and Dal-AC, for prize money up to $6,000!" Mitesh explains. "The pressure is enormous. We have to come up with a solution to a problem in an industry, create a business model supporting the solution, and deliver a three-minute presentation in front of judges and an audience."
Not only did it help Mitesh boost his confidence, Cultiv8 opened up new opportunities. Under the guidance of Jolene MacEachern, Cultiv8 Coordinator, he applied and was accepted to Phase One of the Nova Scotia Sandbox Innovation Bootcamp. The Innovation Bootcamp is aimed at current post-secondary students and recent alumni new to the innovation process. Forty seats are available to students, either individually or part of a team. Through this program, Mitesh will participate in an immersive four-week program to learn an approach to innovation based largely on design thinking and lean start-up methodologies.
The first two weeks of the program are hosted at Acadia University where students will learn fundamental aspects of design thinking, lean canvas process, validating and testing ideas, and communication and presentation skills. In weeks three and four, Mitesh will return to Cultiv8 to apply concepts learned in the first two weeks to develop his idea. At the end of the fourth week, all teams will be brought together to present their ideas to bootcamp stakeholders and a panel of judges. Judges will evaluate the presentations and the most promising ideas will receive a financial investment from a pool of $15,000. Winning teams will also receive an invitation for direct entry to Project Incubation Bootcamp, a 12 week program designed to assist students to furthering their existing ideas.
"By leveraging state-of-the-art technology and the internet, I have a plan to work on one of the biggest problems and impediments to India's progress and other developing countries," Mitesh explains. "I read about government officials using their powers for illegitimate private gain, especially to the disadvantage of poor to average middle-class families. The newly elected government in India is supporting initiatives to expose such corrupt officials. I am very optimistic for my endeavours with this project and to start my entrepreneurial journey in Canada!"
Mitesh, who is studying Plant Science Technology at the Agricultural Campus, chose to pursue plant science while learning about his family business when he was in the seventh grade. The business was established by Mitesh's grandfather in 1982 with his sons, Mitesh's father and his two uncles. The company is a distributor of edible oil products of two companies, Adani Wilmar Ltd and Agro Tech Foods Ltd, in three cities of India (Nashik, Ahmedabad and Aurangabad).
"After my seventh grade, during summer vacation I was given the opportunity to join the family business," Mitesh says. "I was exposed to entrepreneurship step by step. I'm very passionate to become an entrepreneur like my dad and grandfather."
His goal to eventually return to India for work influenced his decision to study Plant Science Technology at Dal AC. While learning the ropes of the family business, he quickly learned that farming in India is always changing and evolving. Mitesh aimed to get ahead of the evolving industry and prepare himself for the future of farming in India.
"My Dad and I would often deliberate on what problems could become overwhelming for our business and for India by 2030 and 2050 and jot down potential solutions," Mitesh explains. "India's upcoming problem will be supplying food to 1.6 billion people by 2050. Indian farmers must learn and adapt to new technologies to farm, and I don't want to be left out of the race since farmers feel more and more pressure to produce more food per square foot of the land they own."
Mitesh's entrepreneurial potential recently earned him the Student Innovation Impact Award at Dal AC. This award is presented to a student who has demonstrated an innovative spirit by developing a concept or idea that has solved a problem for the agricultural industry, is known for their ability to provide good leadership, and works collaboratively with others on campus to move forward with innovative and sustainable ideas. It is his passion for supporting farmers in Canada, his tireless efforts to increase farm-gate profits and his determination to tap into a new market in India for locally grown blueberries that make Mitesh more than deserving of this award. He continues to use his entrepreneurial potential to create export opportunities for blueberry farmers in Nova Scotia, something that has been a challenge to the industry. In addition to this work, Mitesh always treats his team members with respect and encourages other to join Cultiv8.
As he approaches graduation, Mitesh reflects on his educational experience and his time spent in Canada over the past four years. Along with the diverse courses available, the quality of knowledge he received, and the hands-on training, Mitesh will fondly remember the beautiful landscapes of the Agricultural Campus and the friendly people he's met while living in Truro, NS.
These are memories Mitesh will carry with him as he take steps to pursue his dream of one day returning to the family business in India. Although public speaking in English presented an obstacle for him, he confidently believes he is an entrepreneur at heart and is eager to make a positive impact on his family business and in the future of our global food systems.