Kelsey Torak
An avid horse lover and 4-H alum, Kelsey Torak had her future as a veterinarian all sewn up. That was, until she tried a few Aquaculture classes at the Faculty of Agriculture and became hooked on farming the sea.
A native of Shelburne, Kelsey is wrapping up her fifth year on the Agricultural Campus. Set to graduate in May with a Bachelor of Science (Aquaculture), she never imagined she would be focussing her studies and career on creatures of the sea.
From the age of five, Kelsey has been involved in the sport of horseback riding. With her love of horses and her experience in 4-H, she had always pictured herself working with animals.
"When I was in high school I had my heart set on becoming a veterinarian," Kelsey explains. "After my first semester in the pre-vet program, I realized that pre-vet wasn't exactly my cup of tea."
Wanting to continue to study at the Faculty of Agriculture on the Agricultural Campus, Kelsey started looking into other programs. Aquaculture was brought to her attention by some of her friends.
Within her first few classes studying aquaculture, Kelsey was hooked.
"Aquaculture is such a unique industry and still relatively new," Kelsey explains. "There is so much research that still needs to be done in order to find optimum growth conditions for all the different species being commercially grown."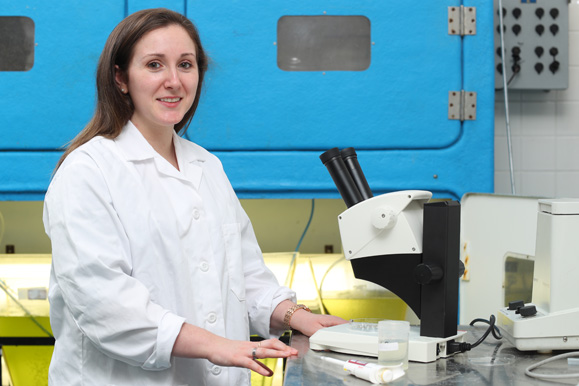 With graduation on the horizon, Kelsey has a full-time job lined up with Scotian Halibut Ltd. Scotian Halibut Ltd is currently the only Atlantic halibut juvenile producer in North America. It is a fairly small company with 11 employees at the hatchery location in Clarks Harbour and seven employees at the grow-out location in Woods Harbour. The Clarks Harbour location where Kelsey works is managed by Shelley Leblanc, also an alumnus of the Faculty of Agriculture.
During the summer between her third and fourth years of study, Kelsey worked for Scotian Halibut Ltd. She worked hard and established connections and was able to secure a full-time job there for when she graduates.
"At the end of that summer I was offered a full-time position when I was finished my studies," Kelsey smiles. "I started a permanent full-time position in May 2016 and am finishing the last of my courses online."
At Scotia Halibut Ltd., Kelsey can often be found behind a microscope looking at the development of fish larvae.
"I look at the development of the jaw, heart, gut, kidney and tail very carefully to see if any of the larvae contain any abnormalities and if any bacteria are present," Kelsey explains.
She will also be responsible for cleaning tanks, feeding fish, insuring oxygen saturation systems are working properly, updating data files and creating graphs of important data such as the weight of the fish over time as they grow. Kelsey will also work with the hatchery manager in the brood stock tanks collecting eggs and milt (sperm) from brood fish that will be used to produce larvae. The larvae that is produced will be grown at the facility for a few months before they are shipped to Advocate Harbour, PEI and Norway where they will be grown to market size.
"The process starts with the collection of eggs and milt from our broodstock," Kelsey explains. "The eggs are fertilized and kept in incubators for two weeks until they are ready to be moved to two-story tall tanks called silos. They are kept in silos for a few more weeks then are transferred to feed tanks. They are kept in the feed tanks for a few months and fed artemia until they are ready to be moved again to the weaning room. They remain in the weaning room and fed a pellet diet until they are large enough to be shipped at approximately five grams. The company is constantly doing research in order to increase the amount of juveniles produced each year."
As Kelsey finishes her last classes at the Faculty of Agriculture, she reflects on her time spent on the Agricultural Campus. She recalls how she first learned of the campus and the programs they offer.
"I was actively involved in 4-H since the age of nine," Kelsey explains. "I was involved in my local 4-H club until my second year of university. Each year, I participated in a 4-H weekend that was held on the Ag Campus. This gave me the chance to see the campus and that's how I learned of the pre-vet program that was offered."
Kelsey adds that she owes some of her academic success to her time spent in 4-H growing up.
"The 4-H motto is 'learn by doing,'" Kelsey says. "By providing so many different types of projects for members to try, I found it has shaped me into a very well rounded individual. I learned how to balance my school work while still attending weekly project meetings and monthly club general meetings. 4-H showed me that by being organized and working hard it is possible to achieve the goals you set for yourself."
Although there are a number of things she loves about the AC, the small class sizes were truly a draw for Kelsey. The small class sizes allow students to have close relationships with their professors.
"Of all the things I love about AC, my favorite is the small class sizes," Kelsey explains. "Most of my professors will stop and talk to me while passing each other in the hall. I'm very glad that I chose to attend the AC."
Learn more about the Aquaculture Program at the Faculty of Agriculture.