Holly Fisher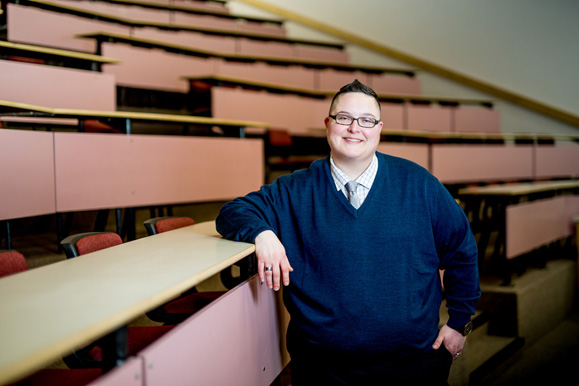 If you had asked Holly Fisher four years ago to stand in front of hundreds of people and speak on behalf of her graduating class, she probably would have said no. But that's exactly what she's doing at the Faculty of Agriculture graduation ceremony Friday, May 12 as her class valedictorian.

Nervous? Not at all: instead, she is overcome with a sense of pride and accomplishment for overcoming the obstacles that stood in her way.

Holly's dream to study animal science at the Agricultural Campus was overshadowed by one major detail — at 25 years old, Holly didn't have a high school diploma.

Holly, from Masstown, NS, enrolled in the Adult Learning Program at the Nova Scotia Community College and earned her high school diploma. She then set her sights on the Faculty of Agriculture. After upgrading courses over the summer she began her Bachelor of Science in Agriculture program.

Four years later, she was voted valedictorian by her classmates and will address the Class of 2017 during its Convocation ceremony. In the past, Holly explains that her speech impediment, oral dyslexia, kept her from public speaking. She admits she wouldn't have perfected her public speaking skills if it wasn't for her involvement with Cultiv8.

Entrepreneurial experience
Holly has been involved with Cultiv8 for two years. Cultiv8, a collaborative program that is offered to both Dalhousie and Acadia students, offers students access to business mentors and entrepreneurial resources. Through Cultiv8, students are given the opportunity to learn entrepreneurship through programs, mentoring and interactive programming.

"Truthfully, I had never considered myself an entrepreneur and I really had no idea what it was," says Holly. "However, after meeting Jolene MacEachern, Cultiv8's coordinator, in the library one day, I was inspired to come to a Cultiv8 meeting, which actually changed my life enormously and made my university career what it is today."

Through Cultiv8, Holly has competed in a number of pitching competitions and business development workshops allowing her to work on her business idea using the business model canvas while earning credits towards her degree. It was through Cultiv8 that Holly developed the idea for her business, 3Meals. Through 3Meals, Holly plans to produce a protein supplement from mealworms, which are high in protein, full of nutrients and environmentally friendly.

"I have always had an interest in entomophagy and believe it will play a crucial role in agriculture in the future," Holly explains. "The need for a reliable and cost efficient protein source is becoming important as the population grows and insects may prove to be the answer for this problem."

Coming full circle
Holly has also taken part in pitching competitions through Cultiv8 such as Start It Up at Acadia University as well as Sprint Ag and Pitch Ag at Dal AC. She even had the opportunity to compete in the Canadian Business Model Competition which then led her to compete in the International Business Competition in Seattle, Washington.

"These events were fantastic learning and networking experiences and gave me an understanding of the amazing things going on in Nova Scotia and around the world," Holly says.

This summer, Holly's journey has come full circle as she will be working as assistant coordinator at Cultiv8. She will work on event planning for things like the Food Truck Fest, the Entrepreneurship Summer Camp hosted in partnership with the Centre for Entrepreneurship Education and Development, and numerous other Cultiv8 events.

"I have been so impressed and proud of Holly and her development over the past two years that I have worked with her," says Jolene MacEachern, Cultiv8 coordinator. "I have watched her grow as a student and a professional and it's a pleasure to have her commitment and talent as we further develop the Cultiv8 program."

Finding her passion
It was through her academics at Dal AC and Holly's love of insects that led her to discover her true passions — teaching and research. Holly plans to continue her education and pursue a Master's degree through Dal AC and Cape Breton University after graduation.

"I have been bitten by the teaching bug," Holly laughs. "My dream is to one day be a professor teaching at a university and completing research."

Holly realized her love for teaching when she was asked to represent Dalhousie University alongside Paul Manning, former Rhodes Scholar and a postdoctoral fellow in the Department of Plant Food and Environmental Sciences, at the Royal Agricultural Winter Fair in Toronto last fall. Paul and Holly hosted an educational seminar that combined both of their research topics and taught students how important insects are to agriculture and the future possibilities of using insects as a food source.

"It was a great learning experience for me on how to run a classroom and how to make it educational, yet entertaining," says Holly. "It was a huge honour to represent Dal AC at this event."

She is also a two-time recipient of an Undergraduate Student Research Award given to students who are interested in natural sciences and engineering. More recently, she won Best Research Award for her fourth-year project with Enterra Feed on the approval of Black Soldier Fly Meal in the diets of Salmonids (a family of ray-finned fish), and was also awarded the Phillip Stead Memorial Excellence in Student Leadership Award.

"It was a huge honour to receive the Phillip Stead Memorial Excellence in Student Leadership Award and it made me feel proud for the work I have done on campus," Holly explains. "To see that people notice and appreciate the work you have done over the years really makes a difference in your life. Meeting the family who set up the award was fantastic and to have them express how impressed they were with my work on campus really made me beam with pride."

A sense of community
As Holly closes one chapter in her life, she can't help but anxiously anticipate the adventure she faces as the next one begins. From not graduating high school to forging a path to becoming a teacher, Holly reflects on her time spent at Dal AC and admits the opportunities and experiences she was presented truly made her time on the Agricultural Campus a life-changing experience.

"The best part about studying at Dal AC has been the sense of community on campus," Holly says. "People here are always helpful and willing to take a minute to have a great conversation. I have made some great connections on this campus and friends that I will have for life, because of my time here and I don't think you can find that on any other campus."
This article is part of a series highlighting the graduates of Spring Convocation 2017. It has been adapted from the Faculty of Agriculture website. Learn more about Convocation ceremonies at the Convocation website.
Read more Agriculture grad profiles