Hartley Prosser
Hartley Prosser on the entrepreneurial road to success
A native of Saint John NB, Hartley Prosser is a fourth year Plant Science student who has found his niche as a budding entrepreneur thanks to the open-arms attitude of Cultiv8, the Agricultural Sandbox hosted on the Agricultural Campus in partnership with Acadia University.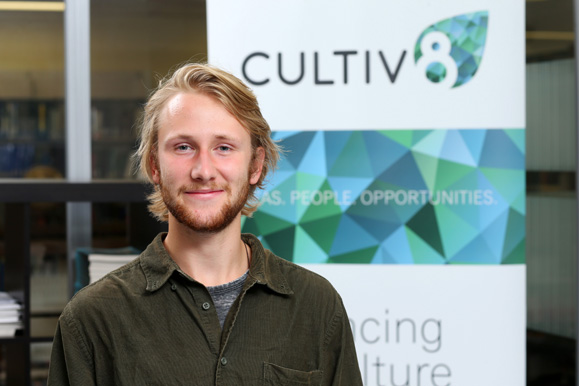 Launched in 2014, sandboxes feature programs to encourage collaboration between different disciplines. They support idea exploration and connect students with mentors, investors and business leaders in the local community.
"Cultiv8 attracted me in my second year of study," explained Hartley. "The 'open-arms' attitude and the hunger for innovation resonated with me personally the moment I was exposed to the Cultiv8 environment," he added.
With a major in Plant Science and a minor in Agricultural Business, Hartley has discovered certain areas of science which hold the potential to brighten the future and provide solutions to some world-issues, in particular the concept of Solar Passive Technology.
"I am intrigued by the eco-centrism of this kind of concept," Harley explained. "There are many other innovative areas of science that are evolving and I believe in their potential to change the way we think about and grow food in the future," he added.
Hartley plans to pursue graduate level studies to further investigate solar passive technology with the belief that it will take innovative solutions to help solve some of the problems in the agricultural and food industries.
"My heart resonates with many things in life but learning and innovating are two things that stand out for me at this moment. As well I am passionate about building connections with my close friends and my new friends to come."

Cultiv8 has encouraged Hartley to engage in the local entrepreneurial space in MacRae Library where he has attended business competitions, acquired connections to various industry members related to his areas of interest and obtained knowledge related to being an entrepreneur.
Hartley believes his degree is multi-faceted and has already opened many doors for him. "I have discovered many opportunities to learn extremely interesting things at Dal AC while also finding a sense of "home" no matter where I am in life," he added.