Connor Morse
Update:
Connor's calf, CDM Ms. Starstruck 13D placed first in the Senior Heifer Calf Division at the Royal earlier this month. Congratulations to Connor and his sister and alumnus Sarah who is seen here showing the Starstruck!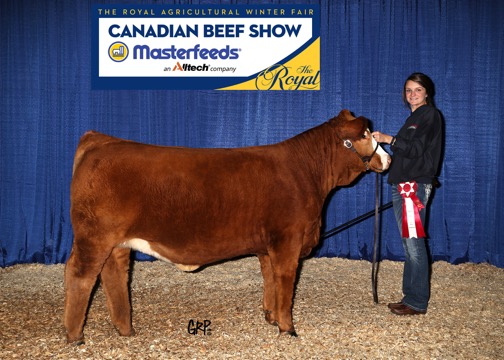 Connor Morse, a third year Agricultural Business student with a minor in Animal Science, is on the Road to the Royal.
Connor, along with his sister Sarah (Class of '15) will be showing beef cattle from their family farm, CDM Simmentals in Kingston, Nova Scotia on Saturday, November 5th in the Simmental Open at the Royal Agricultural Winter Fair in Toronto.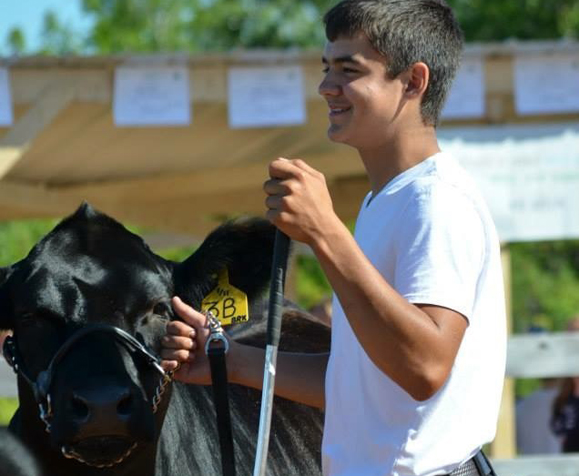 Connor with Jetstream Brokers Babe 3B

Connor has been showing cattle for as long as he can remember. "My first cow I remember showing was when I was five-years-old," he explained. "So this will be my 15th year showing."
"Preparing for a show takes over a year of work and starts with planning the matings within our herd, explained Connor. "The calves are then born in January and the top calves and yearlings are picked for the show string."
The cattle are trained and shown all summer which involves leading, brushing, clipping and much more. Prior to attending the Royal in November, the finishing touches are put on the show string as it is the last show of the season for the family. Trips as far as Toronto take a lot of planning and cooperation within the family. The cattle will leave Monday night and Connor will arrive Wednesday morning.
"I like showing because it gives us a chance to market our cattle to fellow exhibitors as well as show them off to the public," he added. "I enjoy showing as it provides an opportunity to network with fellow exhibitors within the industry."
Showing at the Royal is a family affair. The family farm consists of 60 registered Holstein dairy cows and 60 purebred Simmental and commercial beef cattle. Connor has started his own herd of 15 registered Simmentals as well.
Connor's sister, Sarah, an alumnus and Connor will be showing the cattle. Dad, Jeff, also an alumnus (Class of '84) and mother Josee will be there to lend their help and support. Four cattle will be shown, two belonging to Connor and two belonging to Jeff.
CDM Simmentals has seen much success over the last few years in the show ring. Last year Connor bred the champion Simmental bull at the Royal as well as the National Champion Simmental bull. His Heifer this year was named Champion Simmental female at the Atlantic Agricultural Fall Fair earlier this month and their bull calf was named Champion Simmental bull at both the Heritage Classic Beef show as well as the Atlantic Agricultural Fall Fair.
"Doing anything as a family is huge to me," said Connor's father Jeff Morse. "I can remember attending The Royal myself. Once Connor and Sarah started showing in 4H i was hopeful they would have the chance to attend the Royal Winter Fair as well," he added. "As a family we all take pride in our cattle and sepnd a lot of time choosing sires as well as preparing the cattle for the shows."

As for future plans? "After I finish school, I plan to follow in my father's footsteps and take over the family farm.
Congratulations and good luck at the Royal Connor!