Bees Knees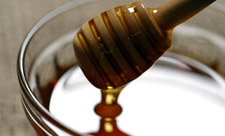 Honey:
A thick, golden liquid produced by industrious bees, honey is made using the nectar of flowering plants Bees produce honey from the flower's nectar through regurgitation, enzymatic activity and water evaporation.
Honey's color, taste, aroma and texture vary greatly depending on the type of flower a bee frequents. Clover honey, for example, differs greatly from the honey harvested from bees that frequent a lavender field.
It's the Bees Knees dinner features Kittilsen's Wildflower Honey in Debert.  The Kittilsen farm is a first generation farm, meaning Paul and Lori Kittilsen established it themselves. There are approximately 230 active beekeepers in Nova Scotia but the Kittilsens are one of the few full-time beekeeping operations in the province, producing about 75 pounds of honey per hive, per year.

Read more about the Kittilsen family.
Our featured researchers:
Dr. Chris Cutler – is the Associate Dean of Research and a professor in the department of Plant, Food and Environmental Sciences.  Dr. Cutler is an entomologist and studies insects – in particular -  wild pollinators
Dr. Bruce Rathgeber - is an Associate professor specializing in poultry.
Dr. James Duston -  is a professor specializing in finfish aquaculture.
Menu
Canapés served during reception, cash bar:
Endive with Walnut, Brie and Lavender Honey
Grilled Peaches, Double Crème Brie & Buckwheat Honey Crostini
Charcuterie board on each table:
An array of cured meats, cheeses and dips with a focus on pairing with local honey
Served meal:
Appetizer
Citrus & Grilled Fennel Salad with Honey and Coconut Roasted Chicken Kabob

Main Course
North River Fish Farm Poached Striped Bass with Fresh Shaved Spring Onions, Bok Choy, Ginger and Honey Soya Broth

Accompaniments
Fresh Honey Buttermilk Rolls with Whipped Honey Butter
Dalhousie's 200th Just Us Rise n' Shine Dark Roast Fair Trade Coffee & Orange Pekoe Tea
Dessert
Honey Pecan Cheesecake with Fresh Mint and Chantilly Cream
Wine on tables, winemaker TBD
Recipes
Coconut Honey Skewers
Serves - 6
INGREDIENTS
2 pound skinless chicken thighs or breasts cut into bite size cubes
3/4 cup soy sauce
1/3 cup canned coconut milk lite or regular both work great
juice of 2 limes
1/4 cup rice vinegar
1/4 cup honey
4 cloves garlic minced or grated
3 leaves bay
2 teaspoons fresh ginger grated
1/2 teaspoon black peppercorns
INSTRUCTIONS
1. Add the chicken to a large bowl or gallon size Ziploc bag. In a blender, combine the soy sauce, coconut milk, juice of 2 limes, rice vinegar, honey, garlic, ginger and black peppercorns. Blend until smooth. Pour the marinade over the chicken and the bay leaves. Cover the bowl or seal the bag and place in the fridge for at least one hour or overnight.
2. Preheat the grill or a grill pan to medium-high heat and lightly oil the grates. Thread the chicken onto metal skewers (or wood skewers that have been soaked in water). Place the chicken on the grill until the chicken is golden and no longer pink in the center, about 5-10 minutes each side. You may also cook the chicken in a skillet if needed. While the chicken is cooking, I like to add the reserved marinade to a small sauce pan, bring it to a bowl and cook about 5 minutes or until reduced to a sauce.
Grilled Fennel Salad
Ingredients
· 1 naval orange
· 1 lime, juiced
· 1 teaspoon Dijon mustard
· 1/2 cup extra-virgin olive oil, plus 1 tablespoon olive oil
· Salt
· Freshly ground black pepper
· 2 fennel bulbs, halved vertically
· 2 celery stalks, shaved on mandolin
· 1/2 cup loosely packed fresh Italian parsley leaves, removed from stems
Directions
Grate 1/2 teaspoon of orange zest, then cut the rind and pith away from the orange. Segment the orange, over a bowl, making sure to cut on each side of the membrane. Squeeze the remaining membrane and reserve the juice.
Vinaigrette:
Whisk together the lime juice, mustard, 4 teaspoons reserved orange juice, 1/2 cup extra-virgin olive oil and 1/2 teaspoon orange zest. Season with salt and pepper, to taste.
Heat a grill to medium.
Salad:
Brush the cut flat sides of the fennel bulbs with olive oil and season with salt. Put on the grill and cook until you see grill marks. Remove them from the grill to a cutting board and let cool. Remove and discard the core. Thinly slice the fennel bulb vertically. Add the fennel slices to a glass bowl along with the shaved celery and the whole parsley leaves. Add the vinaigrette, toss to combine and season, to taste, with salt and pepper. Divide the salad among 4 individual serving plates. Using a vegetable peeler, shave 4 strips of Parmigiano-Reggiano and put 1 strip on top of each salad. Arrange the orange segments on top of composed salad and serve.
Honey Pecan Cheesecake
Yield: 12 servings
Cheesecake Filling
· 2 8 oz. blocks Cream cheese softened
· 1 c Tate + Lyle honey Granules
· 3 Eggs
· 2 Tbsp. Flour
· 1 1/2 tsp Vanilla
Pie Crust
· 2 c Pecans crushed
· 1 Tbsp. Butter
Instructions
1. Preheat oven to 350°F
2. Melt butter and add crushed pecans.
3. Form the pecan mixture into 1 inch balls and place them in your mini cheesecake pan.
4. Use tamper to firmly press the pecan ball in to the bottom of the pan.
5. In bowl beat cream cheese, honey granules, eggs, and vanilla until thoroughly mixed.
6. Add flour slowly, mixing it in completely.
7. Pour cheesecake mixture over pecan crusts, filling each tin almost to the top.
8. Bake for 15 minutes.
9. Let cool completely.
Steamed Bass with Onion, Ginger and Bok Choy
Ingredients
· 2 tablespoons peanut oil
· 1 small onion, thinly sliced
· Salt
· One 1 1/2-inch piece of fresh ginger, peeled and julienned (3 tablespoons)
· One 2 1/2-pound whole black sea bass, cleaned and scaled
· Soy sauce, for drizzling
· 1 teaspoon Asian sesame oil
· 2 tablespoons chopped cilantro
· 1 scallion, cut into 2-inch julienne strips
How to Make It
Step 1
Heat 1 tablespoon of the peanut oil in a small skillet. Add the onion and a pinch of salt and cook over high heat, stirring once or twice, until browned, about 2 minutes. Transfer to a small bowl and stir in the ginger.
Step 2
In a large wok, set a round rack that will sit at least 3 inches above the bottom. Add 2 inches of water and bring to a boil. Set the fish on a heatproof plate that will fit in the wok and sprinkle the onion and ginger on the fish. Set the plate on the rack, cover the wok and steam the fish over moderate heat until just cooked through, about 20 minutes.
Step 3
Drizzle the fish with soy sauce. In a small skillet, warm the remaining 1 tablespoon of peanut oil with the sesame oil over moderately high heat, then pour it over the fish. Sprinkle with the cilantro and scallion and serve.

About Chef Ted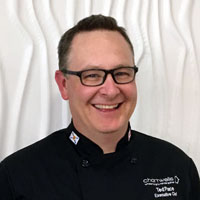 My passion for food started at a young age. Cooking with my grandmother, hunting, fishing, and working in my grandfather's vegetable garden, working on commercial farms picking blueberries, and strawberries. I was often found with my grandfather walking in the woods looking for seasonal harvests when I was younger. These just being a few of the many things that ignited my passion for culinary.
I decided in my youth that I would pursue and study the culinary arts. I attended the Culinary Institute of Canada in Prince Edward Island and graduated top in my class and have remained in the industry for 25 years. Working in 5 star hotels, restaurants, and Country Inns all across Canada has gotten me to where I am today. I have served the rich, famous, and royalty, but I always end up back where I started, looking for quality ingredients and preparing simple yet high quality meals. Enjoying what the people eat is what is important to me, my passion for food is what has kept me in the industry and loving what I do.
Being a father of 3 amazing children, I have found joy in teaching my kids to cook, as well as use the resources we grow in the garden. Growing things like local, fresh, and seasonal foods in our family garden makes obtaining fresh and healthy ingredients for my family much more accessible. If not from the garden, we go on day trips to local farms and support small businesses and collect good food at the same time. While also being my profession, culinary has touched all parts of my life, bringing everyone closer together.
I couldn't have asked for a better life, family, or food. I am greatly looking forward to working with all the next generation of agriculture and passing on what I have learned in my years full of learning, exploration, creation, and fun.